Glazebrook House; a boutique hotel in Dartmoor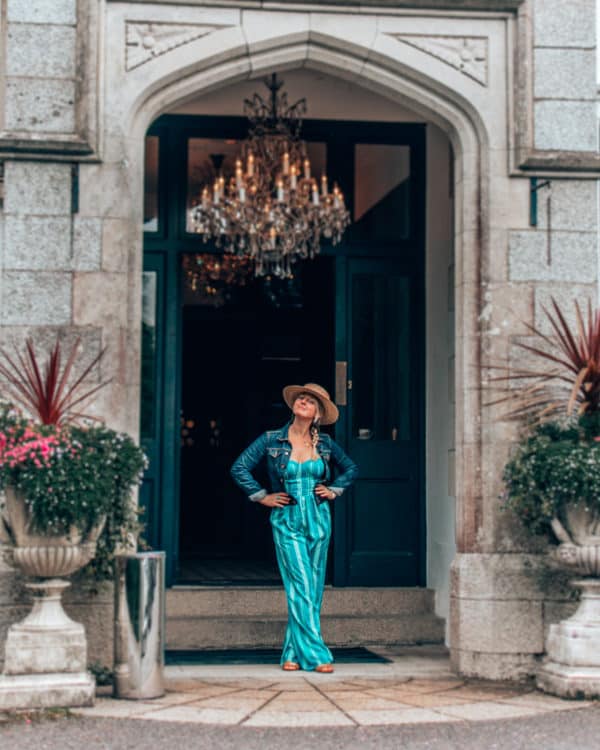 As  you come to the end of the drive and get to the clearing,  beautifully blossomed flowers are first to greet you.  Hydrangeas happen to be some of my favourite flowers. They immediately put a smile on my face and added to my excitement of arriving.
This was one of those escapes I just had to bring my husband along to. Firstly, because I can't drive (in the U.K.) but secondly, because I knew it would be a romantic and magical place to experience together. My hunch was confirmed within minutes!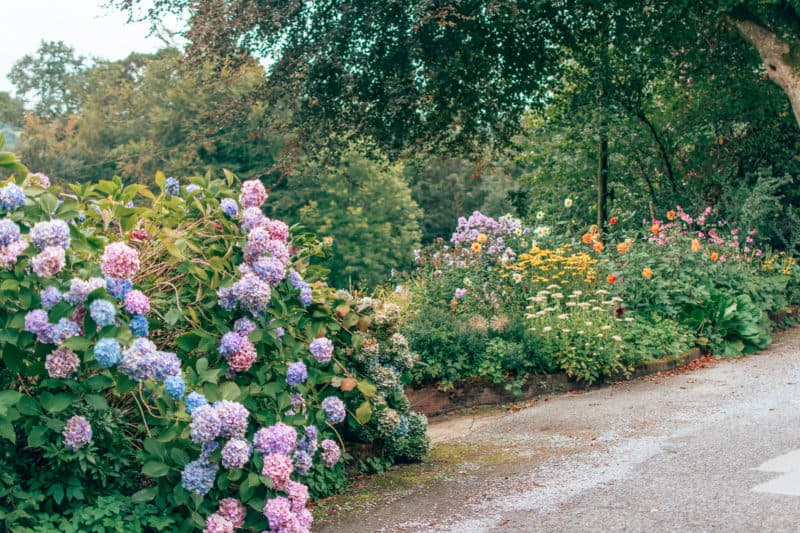 We passed the flowers and garden, parked the car and headed into the grand house.   The decor throughout Glazebrook House is quirky with framed butterflies, vintage trinkets and GB parafinalia. Each odd piece fitting in with the other and making you wonder where it all came from.
Glazebrook House is said to have an Alice in Wonderland theme and is part if the reason I was drawn to it in the first place. Although some may be unsure about a themed hotel the concept intrigued me.
Alas, the Alice in Wonderland theme is done in the classiest way you can imagine. Enough of a theme present to make it feel magical, but certainly not overdone.  Little touches add to the eccentric aura. Each room is named after a character from the story. Si and I got to stay in the ever luxurious White Hare room. The king size bed is actually wrapped in white fur making it quite challenging not to jump into it straight away.
Pieter and Fran, the owners and creators of Glazebrook House, have ensured an atmosphere of tranquility and escapism. It's hard to believe that this gem is only a short distance from the main road. It's almost as if you've gone down a rabbit hole into the Glazebrook House dimension.
Pieter and Fran clearly take great pride in their masterpiece.  Pieter spent 6 months to turn what had been a dated and lacklustre house (they have the before and after photos to prove it) into the stunning Glazebrook House Hotel.  Quality and luxury are seen from a mile away.
The Glazebrook House motto is 'Surprise, Enrich, Delight' and I can assure you that every one of these occurred during our stay.
Glazebrook House staff goes above and beyond to make you feel at ease. I loved that the in room mini bar is complimentary and filled with lovely products such Devon Luscombe drinks,  kettle cooked crisps, and wine. If you want to relax outside your room there are multiple lounges and a bar for you to have a drink and perhaps, a chat with your neighbour. Although luxurious, pretentiousness was no where to be found at Glazebrook House.
I didn't have the chance to meet Fran, but I thoroughly enjoyed chatting to Pieter about how a South African ended up living on the edge of Dartmoor. Getting to know the person who dreamed Glazebrook House up made the trip even more fulfilling.
If you don't have the opportunity to stay here at least go for a meal. A la carte options are available but we had their 6-course wine pairing menu at £75 which I thought to be excellent value. Each course was gorgeous and served to you with a fine wine.  You can make an evening out of it by first relaxing in the lounge and bar then into the dining room.
The location of Glazebrook on the edge Dartmoor couldn't be more suited. I seem to find a feeling of enchantment in the British countryside, especially places like Dartmoor. The wetlands, tors and woods, almost mythical.
There was so much more to do in the area then I realised. Plenty of walks, history, food and interesting landscape so no need to worry about a lack of activities.