Where to Stay in San Juan, Puerto Rico: Neighborhoods, Resorts + Boutique Hotels
Boutique escapes might not the first thing that comes to mind when booking at trip to Puerto Rico, but it should be! There is a selection of really unique rental properties, guest houses, resorts and boutique hotels in San Juan, Puerto Rico for you to choose from.  This guide concentrates on smaller and boutique properties, but I've listed some of the larger resort properties as well. Keep reading to narrow down where in San Juan you should stay so you can start booking your vacation now!
The Neighborhoods of San Juan
Old San Juan
Accommodation is limited and the properties are typically smaller.  There a few really nice luxury options and you'll be in walking distance to many of the tourist locations, restaurants, bars and more.
Condado
Condado is a lovely beach town. Larger resorts and hotels are located here as well as some boutique ones. You'll find some of the fancier restaurants and shops in Condado, but you can also find cheap eats.
You're almost surrounded by water with the ocean on one side and the Condado Lagoon on the other.
Ocean Park
Ocean Park is a very residential area and you will see many houses to rent, but there is also a handful of unique, smaller hotels. This community is beachfront and gated and you'll be a short walk to local amenities.
Isla Verde
Isla Verde is closest to the Airport, but also has some awesome beaches.
Santurce
An up and coming neighborhood with plenty of Airbnb options though it's not as close to the beach as many of the other neighborhoods. The lively La Placita is located here which is the place to be for local nightlife.
Old San Juan Hotels
Hotel El Convento is in the center of Old San Juan. It's a luxury and historic property dating back to 1646 with a stunning courtyard.  Access to their beach club is included in the rate.
The Gallery Inn is located on the edge of Old San Juan overlooking the ocean. This hotel is a stunning boutique property and home to famous piano bar and restaurant, the Cannon Club.
Decanter Hotel opened its doors in 2015 and offers 20 guest rooms and suites, some with private terraces.
La Terraza De San Juan is centrally located in the heart of Old San Juan. They are an upscale boutique hotel and are ready to help you have the best time in Puerto Rico. The interior is stunning and the entire property presents colonial Spanish influences.
Sheraton Old San Juan is located near the waterfront where the cruise ships dock. It's a quick walk into the main part of Old San Juan.
Hotels in Condado, San Juan, Puerto Rico
Sister hotels Olive Boutique Hotel and OLV:55 are located right across from each other on Condado in San Juan and are the ultimate compliments to each other. Whether you prefer modern and glamorous or globally inspired rustic chic they have got you covered. Stay in either and you are welcome to use the facilities in both hotels.
The location couldn't have been more ideal. The hotels are set perfectly overlooking Condado Lagoon, and steps away from the oceanfront on the other side. Each hotel is carefully designed and though very different, have a clear sense of luxury, personality and style.
I would argue that Olive Boutique Hotel is not just a "hotel" but a collection of memories and inspiration curated by the owners Louisse Herger and Fernando Davila. The hotel staircase is filled with travel photos of the couple and really brings it home. You feel a closeness to the place because of these personal touches. This incredible hotel is part of the Small Luxury Hotels of the World and  a real gem.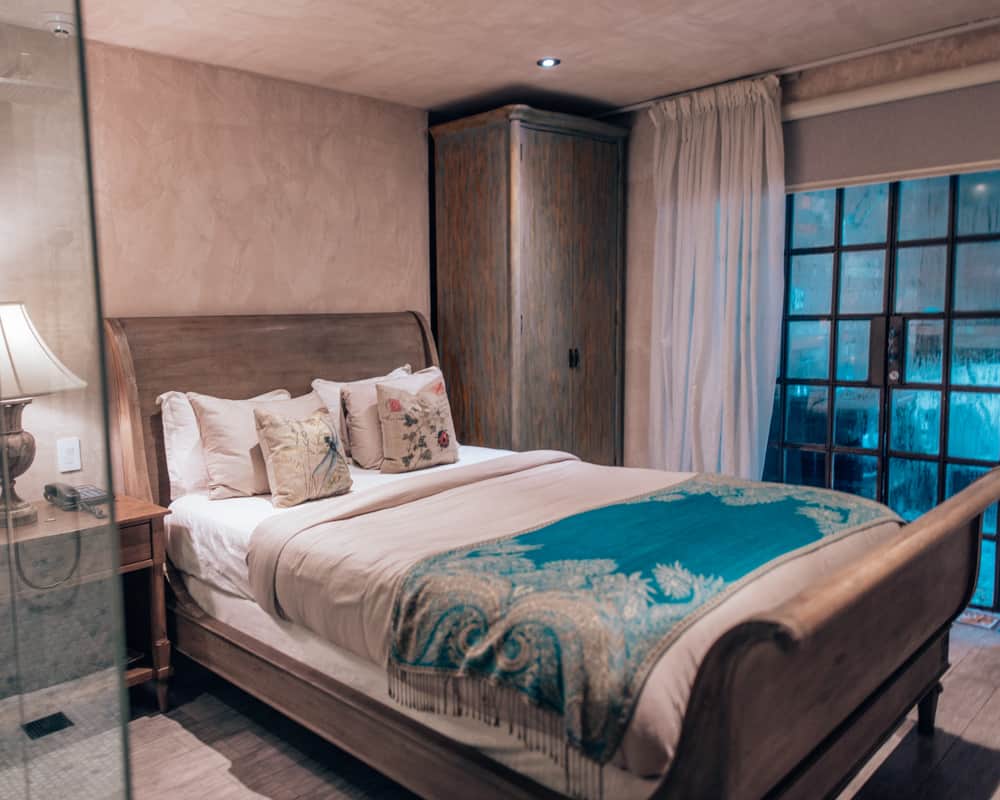 The Rooms
I had the chance to meet Louisse and it was wonderful to hear her talk about the hotels she and her husband have dreamed into reality. She said if she is not at one of her hotels, she's out traveling the world!
Olive Boutique Hotel consists of only 15 rooms. It's the type of place where the staff knows your name and are ready to meet your every need. When we asked to borrow a beach towel they had already nicely packed up a canvas bag with 2 towels and waters.
Amentities
Amenities at Olive Boutique Hotel include a rooftop hideaway with a plunge pool and bar, a delicious steak house, sitting garden, and watersports. One of the staff at reception will gladly help you arrange reservations or excursions during your stay. I was tempted by the El Yunque Rainforest trip but just didn't have the time for it!
The biggest  highlight of my room was most definitely the tiled patio complete with a stone bath. Pull back the curtain for a peak at the sun setting over the lagoon.
OLV:55 is the newer if the two establishments and has quickly become an industry favourite winning The Best Design Hotel of the World and Best New Boutique Hotel by London's Boutique Hotel Awards.
Dine, sunbathe, take a dip in the pool or treat yourself to a massage, all on the roof! Their pool might just be the sexiness thing I've ever seen!
Condado Ocean club is an adults-only hotel located directly on the beach . It has a gorgeous infinity pool where you can order food and drinks or reserve a cabana for the day.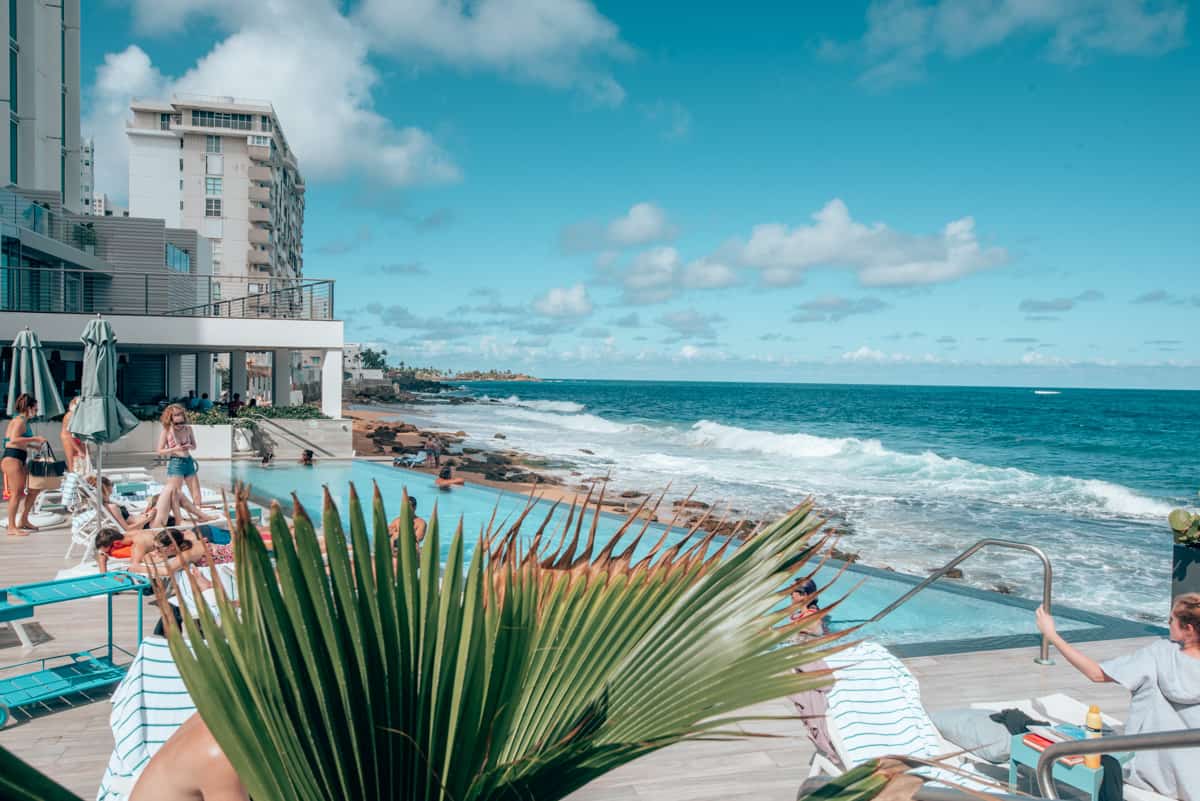 Like most accommodation in Condado, Tropica Beach Hotel is steps from the ocean. The hotel has a modern design and offers a dining room, coffee shop, ice cream parlor and beer garden. They use local cuisine to cook their modern Caribbean dishes.
La Concha Renaissance has a stunning beachfront location. You can choose to lounge by the pool or at one of their beach loungers. They host events on some evenings and have multiple dining options including a sushi bar and cafe.
Caribe Hilton was the first international Hilton hotel. It has a stunning 17 acre property filled with vegetation, a secluded pool, spa and tennis courts.
The Condado Vanderbilt was originally built in 1919 and has been updated for modern amenities and luxuries.  With a selection of dining options, spa, entertainment and fitness center you'll always have something to do.
Ocean Park Hotels
The Dreamcatcher is a small bohemian boutique hotel in the residential area of Ocean Park. This part of San Juan is mainly house rentals so it's mice to have this hotel option in this area.
The Dreamcatcher is a vegetarian hotel that serves breakfast and brunch daily. Check the calendar for special chef nights or sign up for yoga, meditation or tours.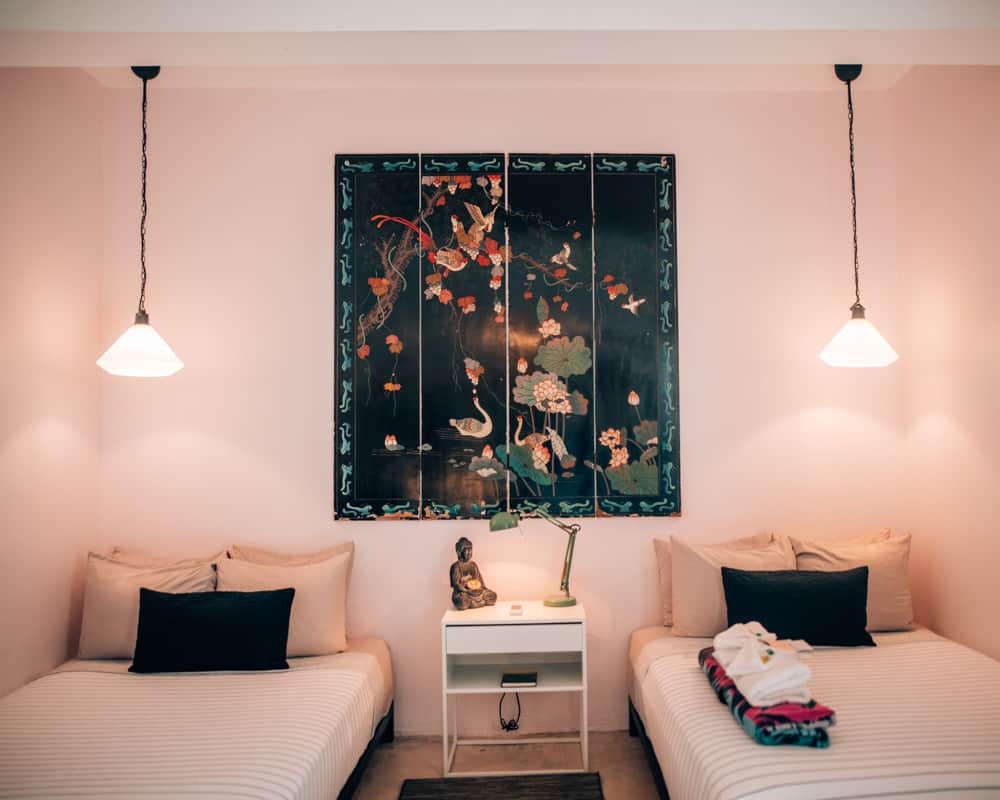 A cute guest house and restaurant located right on the beach in Isla Verde. You must eat in their restaurant which has tables on top of  the sand or try wind surfing which is very popular in this area.
This architectural masterpiece is a unique place to stay in Puerto Rico.  Amenities include a pool, roof deck, hammocks and breakfast to purchase.
Hotels in Isla Verde, San Juan
Enjoy Caribbean Ocean views, happy hour on the roof, fitness center, beach chairs and umbrellas.
The Fairmont embraces the urban vibes combined with sea air. Multiple pools, beaches and dining options on the oceanfront.
Simple, modern rooms steps from the beach. Fitness, fine dining, daily breakfast and more.
The Intercontinental San Juan is a luxury beach resort. You'll find a selection of dining options, a spa and fitness center and of course, top notch service.
Hotels in Santurce
In the San Juan area of Santurce accommodation is pretty limited to Airbnb or property rentals.