Most Instagrammable Places in Las Vegas
Las Vegas is a crazy, off the wall place. It's nickname is "Sin City" so for people who don't want to gamble or party, there is a misconception that Las Vegas won't be for them. This thought could  not be more wrong. If it's one thing Vegas has, it's something for everyone.  The variety in this city is unreal and makes for a photographer's dream. And I mean if you're into night photography, OMG the possibilities! Even for the iPhone camera user there's is so much to snap.  These are the most Instagrammable Places in Las Vegas.
1. Welcome to Fabulous Las Vegas – Sign
Location: 200 Las Vegas Blvd S, Las Vegas, NV 89119
If you don't stop for a photo at this sign did you even go to Las Vegas?
This is a FREE attraction and there is actually a little parking lot so it is easily accessible. It is located on Las Vegas Boulevard South not too far from Mandalay Bay.
I went around 7:30 am and there was one other group there. By the time I was leaving at about 8am a line was starting to form.
2. Seven Magic Mountains
Location: S Las Vegas Blvd, Las Vegas, NV 89054
A creative expression of human presence in the desert by Swiss artist Ugo Rondinone. The installation was originally only supposed to be up for 2 years, but has been extended due to its' success.
The first time I went to this location was in 2017, about a year after it had opened. I went around 7:30 am and there was already quite a few people there. I was luckily enough to go back during my recent trip and got there for around the same time of day. This go around people didn't start to flock here until about 9am.
The site is a 30 minute drive from the Las Vegas Strip.
3. The High Roller at The Linq Promenade
Location: 3545 S Las Vegas Blvd, Las Vegas, NV 89109
The World's Tallest Observation wheel. It's bigger than the London Eye by 107 feet!! You get panoramic view of Las Vegas. The entire rotation takes 30 minutes. If you choose, you can opt for an open bar.
I went about 10 minutes before sunset and luckily there was no line.  I was able to see the strip as it turned to night and all the lights lit up.
Location: 38 White St, New York, NY 10013
A place for old Vegas signs to be preserved. It really was awesome to see some of the signs promoting things like "cooler TV" oh have times have changed!
I went here in the afternoon and there were more workers than people at the museum! I can't believe this isn't a more popular spot. Or perhaps they do a really good job of staggering guests!
Location: 29450 Valley of Fire Hwy, Overton, NV 89040
Entry Fee: $10 per car
A 1 hour drive from the strip lies Valley of Fire State Park. The fiery red stones and amazing rock formations make for amazing photos. If you can, I recommend devoting a full day here. There are hikes and camping throughout the 40,000 acres and a ton of beautiful photo worthy views!
Location: a total of 6 blocks from Las Vegas Boulevard East to 8th Street and from Ogden Street South to Carson
Murals and Art are strewn across this district.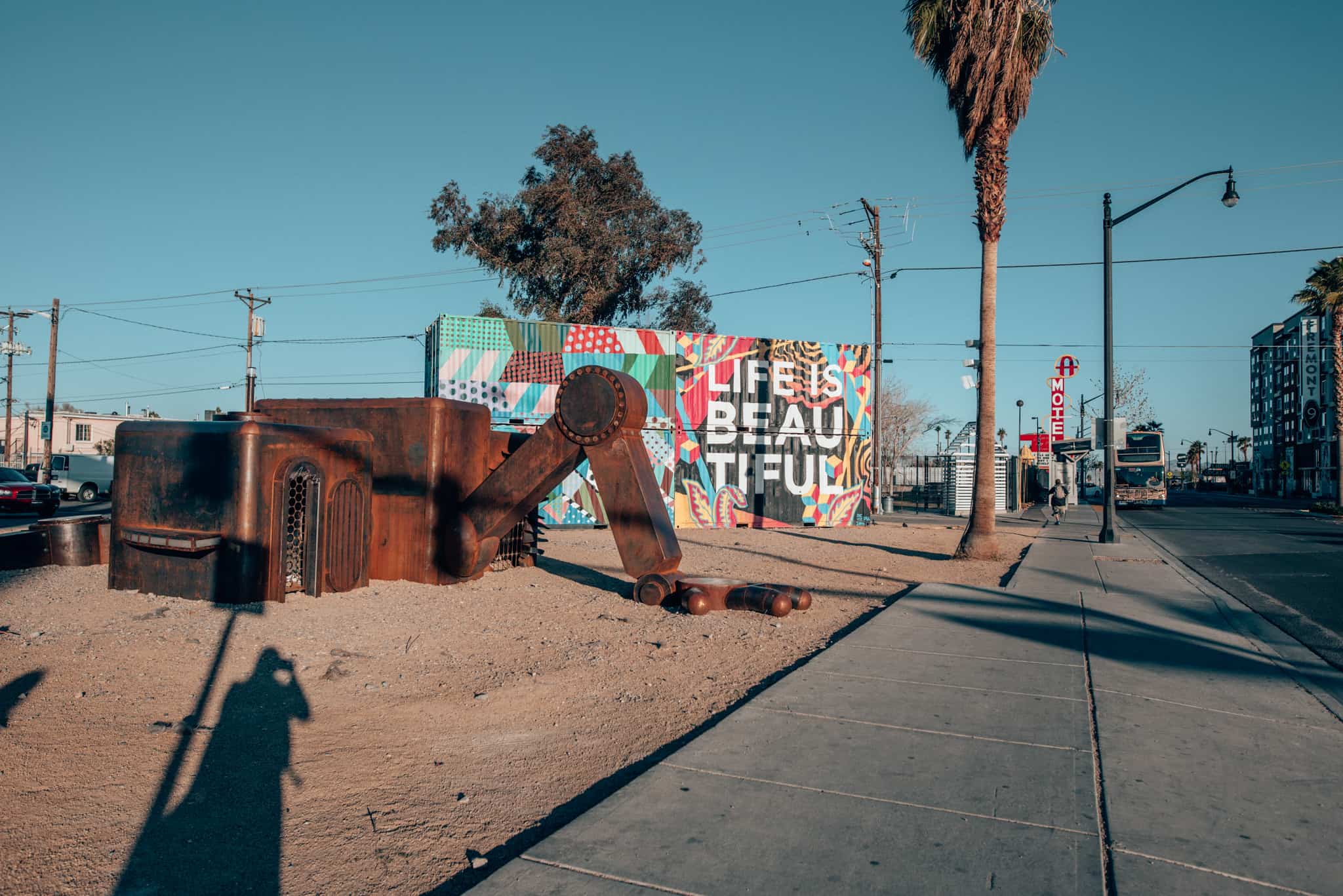 Location: between the Strip and Downtown between Las Vegas Boulevard and the I-15
This area is one of the oldest parts of Las Vegas. The old garages and storefronts turned vintage stores and cool new coffee shops have been a hit with the locals. There's vibrant murals and retro motels make for some pretty awesome photo opps.
Europe in Vegas 
Pretend you're touring Europe by visiting Paris, Caesars Palace and  The Venetian. Get your insta photos in Italy + Paris without leaving Nevada! You'll see the Trevi Fountain,  Eiffel Tower and Venice Canals!
8.  The Trevi Fountain
Location:  Caesar's Palace: 3570 S Las Vegas Blvd, Las Vegas, NV 89109
9. The Eiffel Tower
Location: The Venetian: 3355 S Las Vegas Blvd, Las Vegas, NV 89109
Other Locations:
A Little White Wedding Chapel
El Cortez Hotel
Check out my other Instagram Guides: