How to see San Francisco in a Weekend : Perfect 3 Day Itinerary
Planning on seeing San Francisco in a weekend? I've laid out the perfect San Francisco itinerary, but let me just start by saying that San Francisco is weird. At first I wasn't sure about this city but it definitely grew on me. I'll chalk my poor first impressions up to where I to stayed the first two nights of the trip.
I stayed near Fisherman's Warf and it was soo not my vibe. It's super touristy and I felt like there was no local atmosphere to the area. That being said, you should still see the touristy parts, but I'd just stay somewhere better. Luckily, you can read my guide on seeing San Francisco in a weekend : Perfect 3 Day Itinerary and avoid making the same mistakes as me!
Disclaimer:
When I travel I like a good mix of sights, photography locations, and local food + drink scene. I'm trying to be more conscience of writing my itineraries to the things I would actually do and cool things that I find instead of just listing all of the "must" do's you'll see in any guidebook. Rarely would I pack all of my time with museums and sights and nothing else. Any of the All of the stops on this San Francisco itinerary I either went to myself or was suggested to me by a local and I just didn't have time to get to it. Hopefully, you'll enjoy my extra suggestions as well as the top attractions!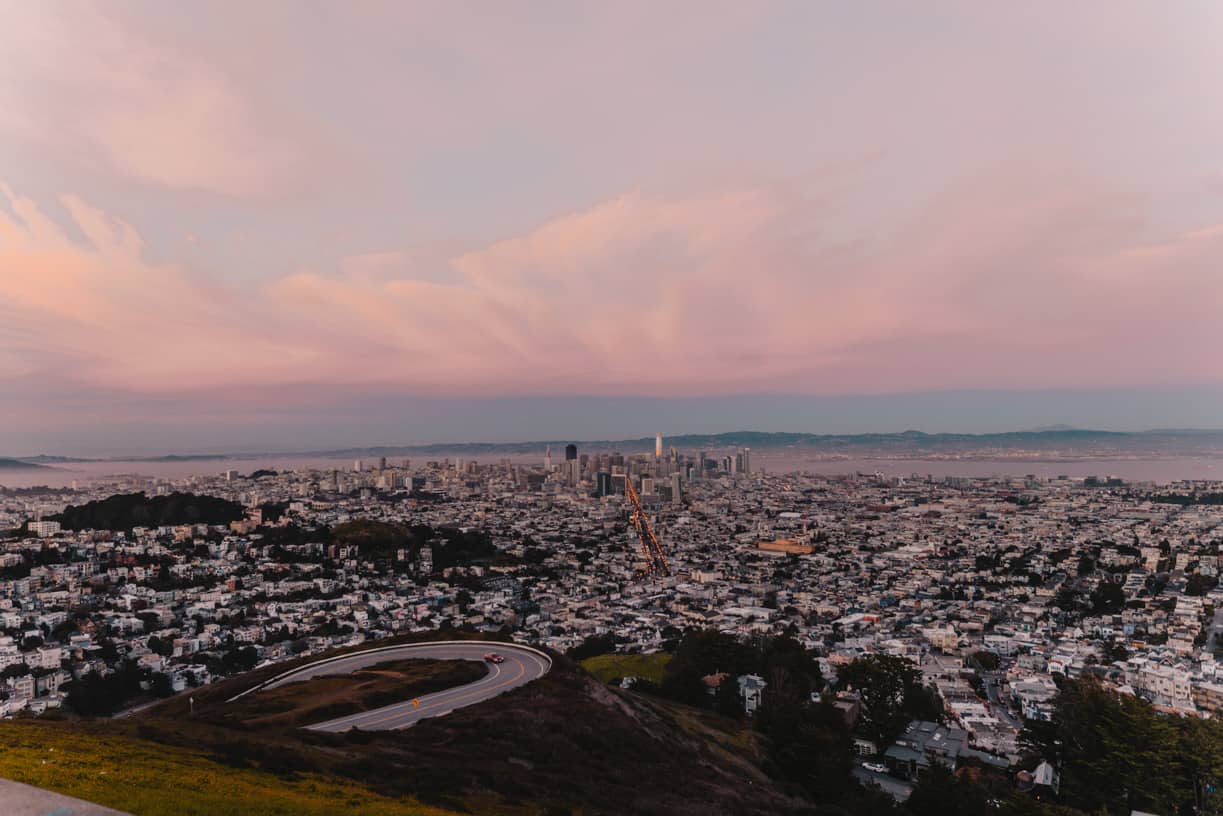 Know Before you go to San Francisco
We've all heard it before, San Francisco is expensive. It's one of the most expensive cities in the U.S.A. usually ranking second only after New York.
San Francisco has microclimates so be prepared with layers.
Karl likes to hang out. If you don't know who Karl is…Karl is what the locals have named the fog. Yes, it's that serious.
You will probably see homeless people tented up on the streets. They are mostly in the Tenderloin District to the west of Union Square. Just be respectable and keep an eye out for your belongings like you would in any city!
Getting There + Getting Around
We opted to forego a vehicle since we heard that parking is rare and when you find it, can be very expensive. Now that I've been, I can confirm that both rumors are true. Oh and if you were to find street parking you may have to parallel park on a 60 degree angle. There are many options for getting around…Trolleys, Uber, Walking, Muni, BART or ferry. I can't give much advice on the public transportation system since I stuck to uber and walking but checked out Curbed San Francisco's full guide for more info.
What to Pack for a weekend in San Francisco
San Francisco is one of the most casual cities I've ever been to. I wore a dress with over the knee heeled boots and felt pretty dressy. I discourage wearing any heels because it did me no favors walking up or down hills. Casual attire, flats, layers, and California flare will suit this San Francisco itinerary.
San Francisco has a lot of outdoors space and parks so it may be useful for you to know their open container laws. I found a great guide from the Bold Italic here. The gist of it is that specific locations have approvals and beer and wine is mainly fine. Even in non permit areas no one seems to care.
Where to Stay in San Francisco
Like I said, I made the mistake of staying in North Beach near Fisherman's Warf my first 2 nights and I was not a happy camper. On the last night I stayed in Nob Hill at the Huntington Hotel and absolutely loved it.  Frankly it is not really a budget location, this is where a lot of the luxury hotels were, but a great spot if you can afford it.  Personally, if I cant find a boutique or luxury hotel in my budget I'd much rather just stay in an airbnb or guest house.  My best suggestions on areas to stay for are:
Haight-Ashbury (quirky + hipster)
Nob Hill (luxury + historic)
Hayes Valley (neighborhood feel in the center of the city)
What to do in San Francisco in 3 Days: Day 1
I kind of like the idea of doing all of the touristy bits in the first day and having the other two days be more casual and contain more eating and drinking.  So Day 1 consists of the jewel of San Francisco, The Golden Gate Bridge, Fisherman's Warf, Alcatraz and the like.
1. Visit the Golden Gate Bridge
First up on the San Francisco itinerary is the Golden Gate Bridge Visitors Center – Parking available. From here you can choose to walk over the bridge or walk one of the trails. Walk to Crissy Beach, Baker Beach or Battery Godfrey's Golden Gate Overlook for views of the bridge.
Battery Spencer is on Sausalito side so if you don't have a vehicle that location may be too far. This location is incredible at sunrise.
If you're up for the challenge you can always rent a bike and go for a long ride across the whole bridge or trail.
2. Palace of Fine Arts
A stunning event space and venue located near the golden gate bridge. But it's not whats inside though that matters. You'll want to see the beautiful dome and relax in the colorful gardens.
Address: 2032 Union Street
Housed in the original 1854 dairy farmhouse where Cow Hollow derives its name and situated behind the second oldest palm tree in San Francisco. Known for tropical cocktails and tasty brunch.
4. Lombard Street
The famous zip zag street consisting of 8 hairpin turns. The speed limit is only 5 mph so probably better off walking the steps and watching from the side! Since it's such a popular site you'll notice how well manicured it is. Not all streets in San Francisco look this good.
Address: 900 North Point St #52
The Ghiradelli Landmark since 1862. Three levels of chocolate and treats. In addition to ice cream and chocolate you'll also find a brewery, BBQ joint, tasting room and more.
6. Buenavista Cafe
This traditional Irish pub opened in 1916 and is where the Irish Coffee was said to be invented.  For $11 you can have the perfect afternoon pick me up. I was astonished when the barman said they make about 2000 per day!!
7. Fisherman's Warf + Pier 39
The most touristy part of San Francisco. Souvenir shops and clam chowder are the main occurence here.  Not where I would spend most of my time when there are so many cool areas in the city. We passed through here just to look at the famous Sea Lions on the pier.  If you're really pining to eat hear head upstairs to Fog Harbour Fish House or go to Boudin Bakery for sourdough and clam chowder .
8. Alcatraz
Ferries leave from pier 33
Alcatraz was a federal prison operating from 1934 to 1963. Infamous prisoners such as Al Capone were held there. Alcatraz is only accessible by ferry. Some say Alcatraz is incredible, some say it's boring. I went years ago and did not revisit on this occasion, but I remember thinking it was quite interesting! You must buy your ticket in advance as they sometimes sell out days ahead. If tickets are already sold out purchase a combo pass and you're in!
San Francisco Itinerary: Day 2
Day 2 San Francisco itinerary covers Chinatown and the Financial District, beginning the more food and drink centric part of the trip. The San Francisco Chinatown is huge so there are plenty of both of those.
1. Telegraph Hill + Coit Tower
 Address : 1 Telegraph Hill Boulevard
Apparently there is a flock of parrots living in Telegraph Hill, how crazy is that! From the 210 foot – Coit Tower you can get some great 360 degree views of the city.
2. Chinatown
Did you know the Chinatown in San Francisco is the biggest one in North America?
Li Po – This Cocktail lounge has been open in Chinatown since 1937! You've gotta get the Mai Thai.
Golden Gate Fortune Cookie Factory– See fortune cookies being made by hand. Pick up the x rated ones for the perfect gag gift!
Home Coffee Roasters– A modern coffee shop with colorful latte art.
Sam Wo – The classic eatery recently reopened. Super casual digs and tasty Chinese food.
3. California Street
Walk down California street for the perfect vantage point of the Bay Bridge. I got some of my favorite photos of the trip on this street! I went at sunrise to compete with less traffic and timed getting my photo with the lights.
4. Ferry Building
A ferry terminal building which also houses a food hall. Quick serve artisan food and drink. I paid $28 for 2 turkey grilled cheese here, but hey, "When in San Francisco." Watch the ferries coming and going as you sip a latte or catch a ride for a cheap boat trip!
Address : 568 Sacramento Street
Frequently put into the most instagrammable restaurant category, Leo's Oyster Bar has won awards for it's design. It serves delicious seafood and tropical cocktails in a glam setting in FiDi.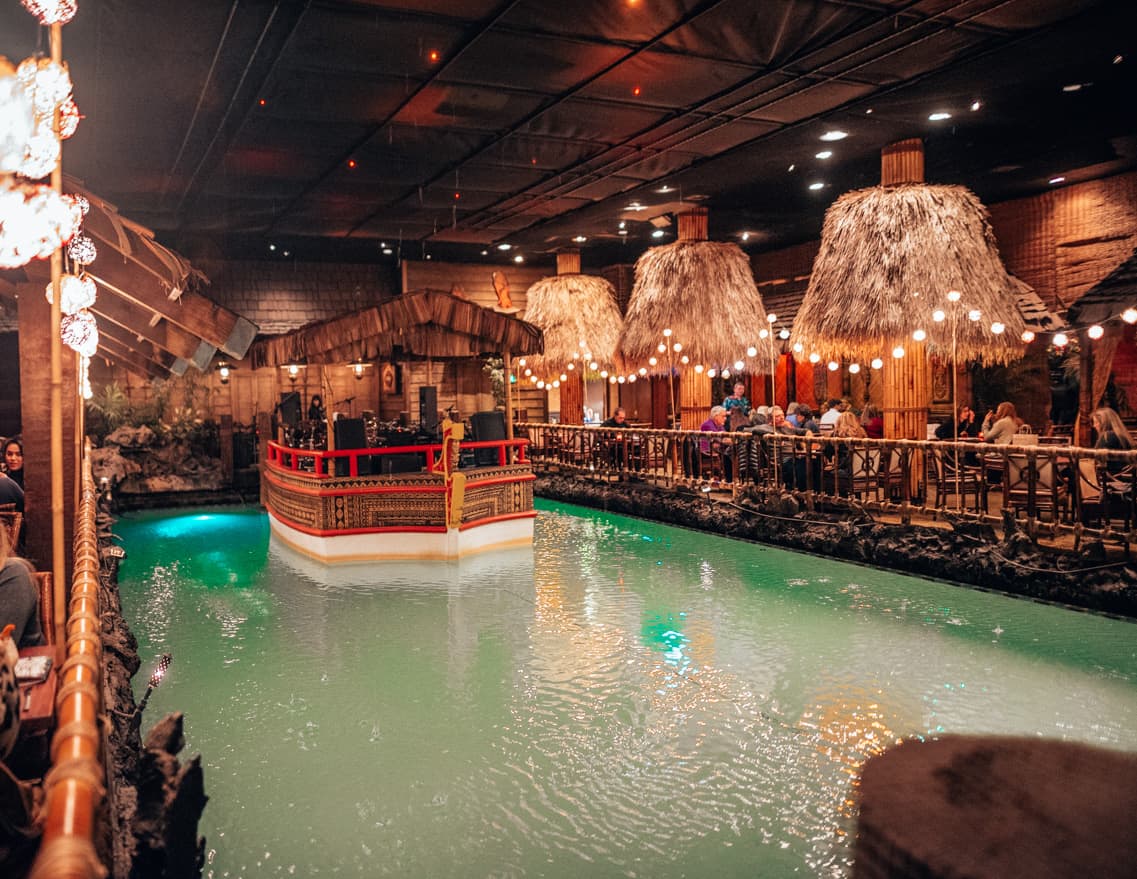 6. Charmaine's Rooftop
Address: 1100 Market Street Entrance, 45 McAllister St
A quirky rooftop at the Proper Hotel set above Market Street with a pretty outdoor terrace and fire pits.
7. Tonga Room
This massive tiki bar is in the basement of the Fairmont Hotel. They repurposed an old indoor swimming pool and made a lagoon centrepiece to the set up. Get there in time for the happy hour (Monday-Friday 5-7pm) for $10 cocktails. Note* there is a table fee per person so you might want to skip the dinner and stand with your cocktail. Live music some nights from the stage in the middle of the lagoon!
San Francsico Itinerary: Day 3
Day 3 covers the Mission District and Haight-Ashbury. The last day  is a full on meander stopping at food and drinks spots throughout.
1. Mr. Holmes Bakehouse
Address: 1042 Larkin Street
A small counter service bakery where every bite is just right. They serve pastries that you will never forget about. The raspberry croissant and lemon meringue were both sooo delicious.
2. Painted Ladies + Alamo Square
Ever heard of full house? This location was featured on the opening credits of the show! It's a quaint park with lovely views and a nice opportunity to enjoy the sunshine if it's a nice day. Theres' a are dog section of the park so you'll probably see a lot of furry friends!
3. Haight + Ashbury
If you want to step back into the 60s, this is the place. The epicenter of the counter culture movement and home to the Grateful Dead House which my aunt would literally be head over heels for.
This Urban park is actually bigger than Central Park! Spend an hour here or add on an extra day just to explore the park.
Japanese Tea garden
Conservatory of flowers
Botanical Gardens
deYoung Museum
5. Tartine for Lunch
Pastries, bread and pressed sandwiches made with organic ingredients and lots of love. I tried the croque monsieur with mushroom and an almond milk cappuccino.
6. Mission District
Murals, taquerias and eclectic vibes. It reminded me a bit of the East Village in NYC!
Taqueria El Farolito – named best Mexican in California, although still up for debate! There was actually news crew here the day I went because the story had just popped off!
Kitchen Story
El Techo Rooftop
Mission Dolores Park – Try and track down the Coconut Guy for a fresh coconut rum drink! There's also a Truffle Guy…
Visit the Murals
7. Twin Peaks
Last but not least on this San Francisco itinerary are the Twin Peaks. Head to this view point for the most amazing sunset. The city starts to twinkle as the sun disappears. Be aware that it can be pretty windy up here! I was left wishing for my extra layer as we waited for the perfect photo lighting. We were pretty lucky with Karl( the fog) and had a lovely clear sky.
Other Things to Do and Best Day Trips from San Francisco
Wine Country
Sonoma– An abundance of farm to table cuisine. Known for being the more laid back of the two wine counties. Has a larger range of varietals from Pinots to Gewurztraminer.
Napa – Known as the more boujee of the two wine counties. Napa is more crowded and concentrate on Cabarnet and Bordeux varieties.
Yosemite National Park
Muir Woods
Half Moon Bay
Sausalito
Monterey
Visiting LA on your trip to California? Check out my guide to the top LA Instagram Spots.