Travel Guide to Saratoga Springs, NY; Things to Do + Where to Stay
Although I grew up visiting my grandpa in a town just 45 minutes from Saratoga Springs, it's only now that I'm  starting to realize the appeal of this Upstate NY city. Saratoga boasts incredible history, amazing mineral water, the iconic Saratoga Racetrack and a ton of charm.
What is Saratoga Springs known for? History and Overview
This city is 3 hours North of NYC, but you'll certainly find an urban and polished vibe about it. Saratoga Springs has hundreds of restaurants, a plethora of history, it's own mineral springs and plenty of entertainment.
The population of Saratoga Springs is around 27,000 and the downtown area is lively.  There are places to grab a coffee, go shopping or spend the day pampering yourself at a spa. Saratoga Springs was actually known as 'the Queen of the Spas,' and has a history of being where the rich would go to gamble and relax.
Getting There from NYC
Bus
Trailways bus service can get you from NYC to Saratoga Springs, but you will most likely have to do a transfer in Albany.
Train
Amtrak train service will get you as far as Schenectady and you will have to transfer to a bus for the rest of the journey.
Drive
Driving from NYC to Saratoga Springs takes about 3 hours. The drive is easy since it's a pretty direct route right up I-87.
Things to Do in Saratoga Springs, NY
Drink Saratoga mineral spring water.
Through out the city there are 21 public mineral springs! Karista, Hayes Well, Orenda, and Polaris are names of some of the various springs. You can access them pretty easily and fill up your cup for a taste.
Relax at the Roosevelt Baths & Spa.
Soak in mineral waters, have a massage, facial or full body treatment!
Visit Congress Park.
Admire the historic carousel or old Canfield Casino where the Saratoga Springs History Museum is located.
Enjoy Saratoga Lake.
Brown's Beach is the only public beach and swimming area on the lake as most of the beachfront property is privately owned. However, you also have the option of enjoying the lake from a boat, can also opt to take a boat, kayak or from the restaurant, 550 Waterfront!
Meander through the Yaddo Gardens.
Beautiful gardens and retreat for artists.
Visit Saratoga Spa State Park.
Victoria Pool and Peerless Pool Complex are two public pool located in the park. You can also go hiking, biking, use the playgrounds, taste mineral springs and see a concert at SPAC.
Spend the day at the Saratoga Race Course
This is an iconic Saratoga activity! Every year my cousins and I pick a day to go. We love that it's BYOB! We pack up coolers with drinks and snacks then head downtown for a few nights caps.
Tip* No glass  is allowed in the venue so make sure to pack only plastic or cans. 
See a performance at Saratoga Performing Arts Center (SPAC).
This outdoor concert venue hosts big names every summer. Be sure to check the calendar so you don't miss out!
Pick up your produce at Saratoga's Farmers Market.
From May-October you can visit the outdoor market at Wilton Mall on Wednesdays 3-6pm and Saturdays 9am-1pm. In the winter it's indoors on Saturdays 9:30am – 1:30pm.
Listen to folk music at Cafe Lena.
An iconic and intimate folk music venue that's been opened since the 60s.
Where to Eat and Drink: Restaurants, Cafes and Bars
Uncommon Grounds Coffee and Bagels
The bagels are made fresh daily which you can certainly tell. They are so good and quite a decent size! Order a simple bagel and cream cheese or try one of their sandwich creations.
It was nice that they always had proper coffee as well. It's rare you find a good bagel spot with decent coffee or a coffee with okay bagels and Uncommon Grounds has both!
Mrs. London's Bakery
A Parisian-style bakery serving pastries, coffee, wine and quiche.
Farmer's Hardware
This spot in known as a 'brunch hall.' I can't wait to try it out next time as I'm a major brunch enthusiast!
Druthers Brewery
I loved this place ! We got one of the burgers, shrimp tacos and their kale salad and everything was super fresh and tasty. They clearly use quality ingredients here and the burger was unbelievably juicy and tasty. Highly recommend! Druthers!
Ravenous
A restaurant based around crepes! You can enjoy sweet or savory crepes  or some fresh cut Belgian pomme frites!
Comfort Kitchen
All sorts of home made pasta using 100% organic semolina.
The Thirsty Owl
This spot is conveniently located just a short walk from The Five Points Inn! They have a restaurant and tasting room serving New American cuisine and their own wines from Cayuga Lake!
Hattie's
Hattie's is a classic Saratoga joint serving fried chicken and Southern fare.
Hamlet & Ghost
A cocktail bar and restaurant located in an old feed & grain!
Where to Stay in Saratoga Springs, NY : Hotels and Inns
The Inn at Five Points sits at the five points intersection in Saratoga. It's the perfect location because it's walking distance to downtown, the Saratoga Race Course and has an adorable deli across the street.
The inn can sleep a total of 21 people in 9 rooms. The main floor consists of two sitting rooms and a breakfast room with a coffee/tea area for guests to help themselves to. I loved the beautiful porch,  two fireplaces and byob bar area. Everywhere at the inn felt super cozy and inviting.
Thanks to the many windows, the natural lighting at the inn is absolutely perfect. It was such a treat to take pictures and do work here!
I'm looking forward heading back in the summer so I can walk to the races and fully explore the city of Saratoga!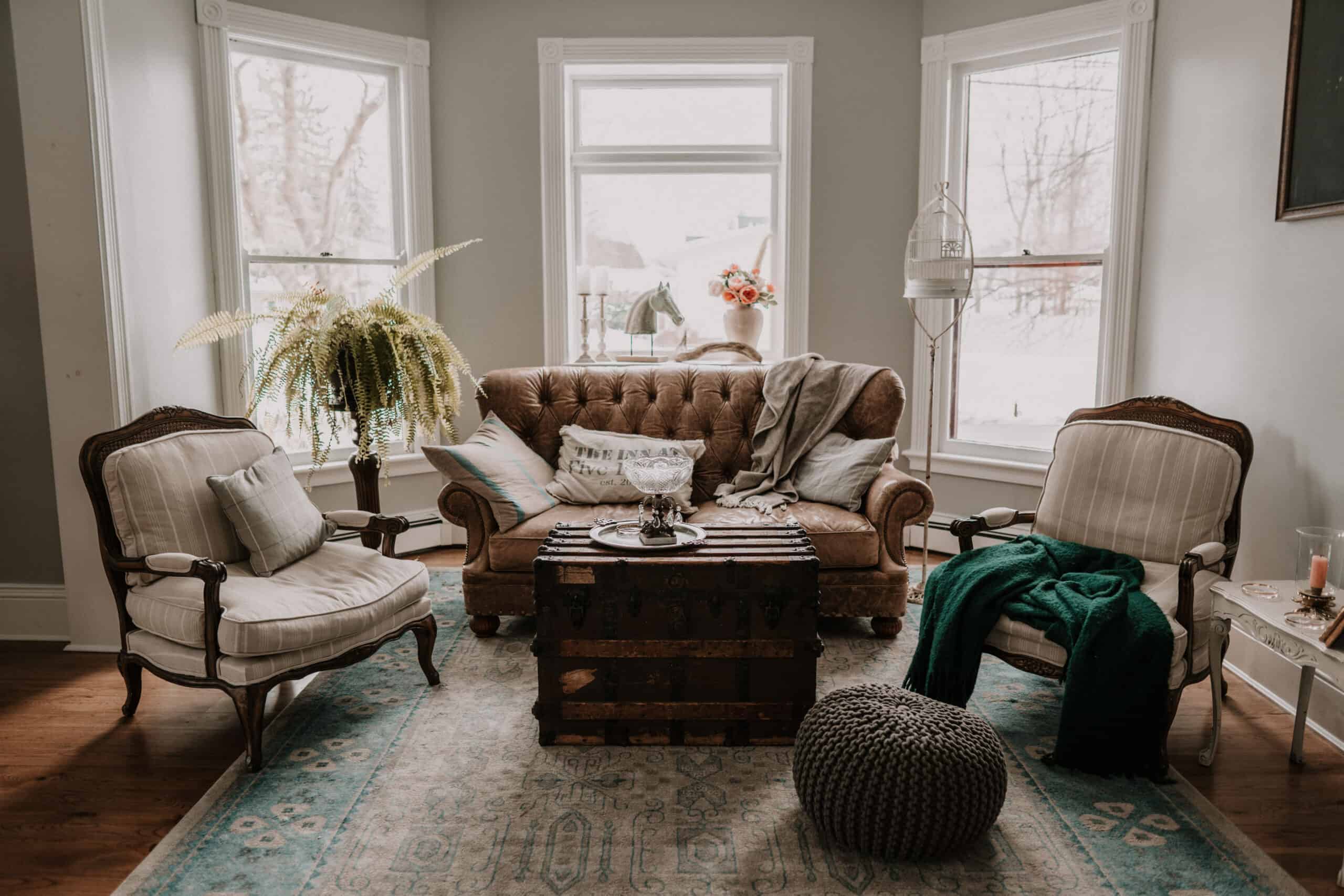 The Brentwood is literally located across the street from the Saratoga Race Course. If horses are the reason you came to the city this accommodation may be worth looking into!
A hotel by the Lark Hotel Group in the middle of downtown Saratoga. Once a motor lodge, now a place for the modern traveler.
A classic hospitality 4 star hotel and home to the Roosevelt Baths and Spa.
An elegant, luxury hotel which is pet friendly and offers their own restaurant and bar.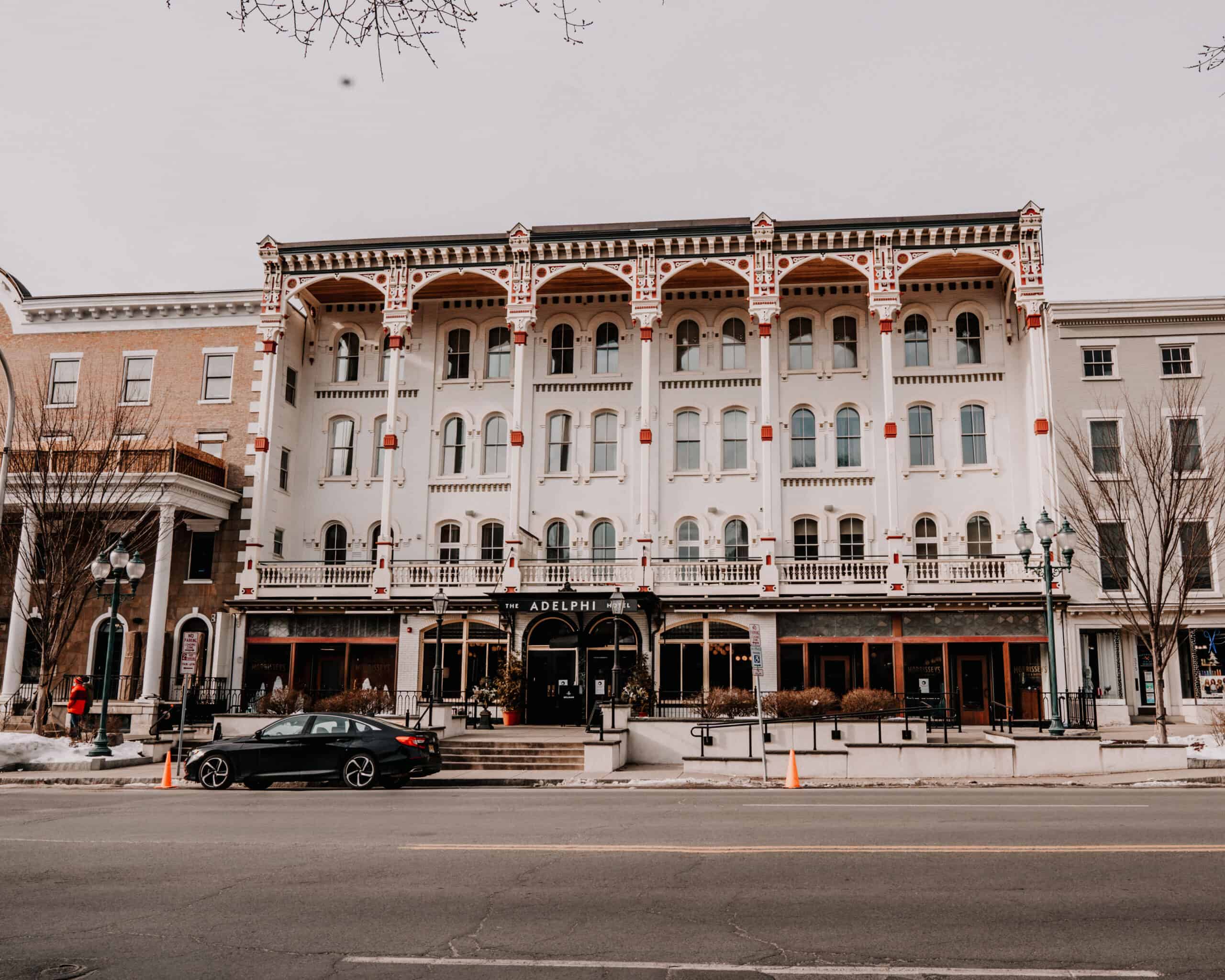 Where to Stay Fit in Saratoga
Pure Barre Saratoga 

YMCA Saratoga 

The Hot Yoga Spot

Bike + Box Studio
Day Trips and Things to Do Nearby
Lake George + Bolton Landing
30 minutes from Saratoga Springs
Burlington or Woodstock, Vermont
2 – 2.5 hours from Saratoga Springs
Lake Placid
2 hours from Saratoga Springs
Adirondack Mountains
Catskill Mountains
Other Upstate NY Towns to Visit