What to do in Whistler in Summer
Sorry East Coast but you got nothing on the BC mountains! I could not believe the size of the mountains when I arrived in Whistler they are enormous compared to the ones I've seen in Vermont and New York.  This was my first trip back to Canada since I was 18 and boy was I impressed with the scenery! Whistler is knowns for its winter sports, especially since hosting the Winter Olympics back in  2010, but it can also be a summer destination. The outdoor activities don't stop at the slopes. Here is my guide on what to do in Whistler in summer!
Getting to Whistler
Fly into Vancouver Airport and rent a car. Make your way along the Sea to Sky Highway for an incredible drive. For 2 hours you will be in awe. There are various pull offs to stop and admire the view.
Other options are shuttle and private car hire. If you want to have freedom and make the most of your time then you will need a rental car. It is easy to get a round with only one main road.
Getting around
Okay so if you've rented a car you are all sorted! Be aware that any time you go to Whistler Village you will have to pay for parking. Day rates apply. Uber is available and many of the hotels have shuttles to the village.
Where to stay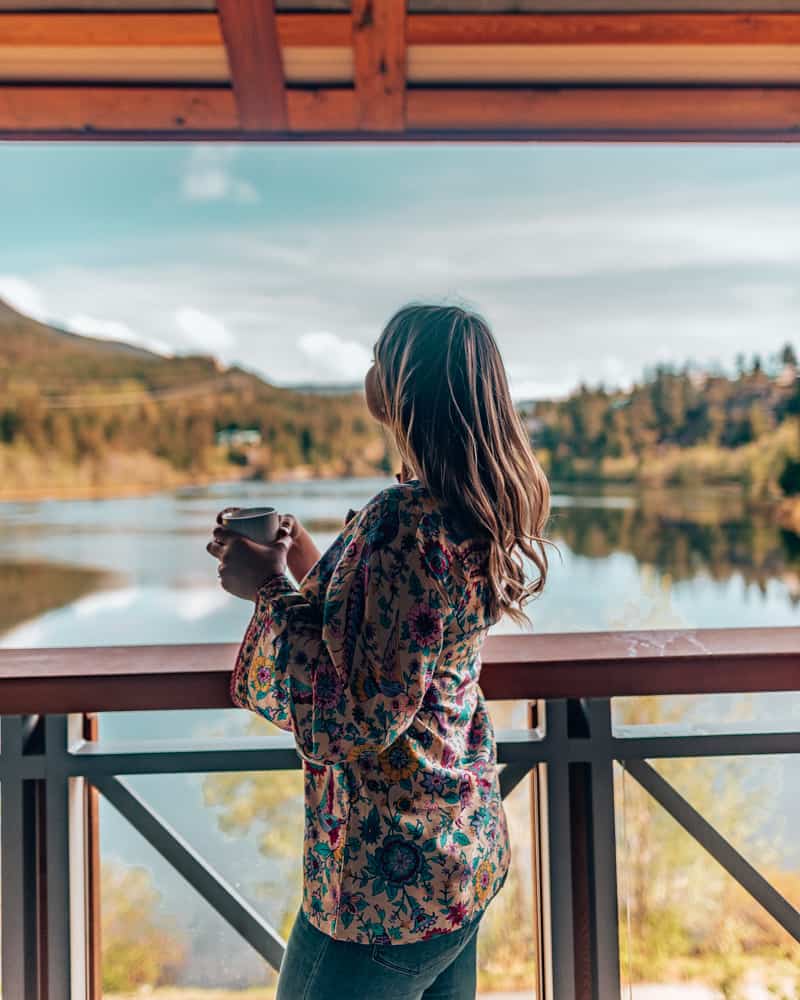 Nita Lake Lodge  takes the cake for location. It is the only lakeside hotel in Whistler. Nita Lake Lodge is a luxury boutique hotel and seriously gorgeous inside and out.
It has a cafe, lounge and restaurant on site. It's close to hiking and biking trails and has free use of canoes, kayaks and SUPs, bicycles. There is free wi-fi throughout the lodge and a complimentary village shuttle.
Conveniently there is a wine shop next store if you just want to hang in your room and relax.
Spa and fitness facilities are on site. In addition to the rooftop hot tubs open to all, the spa has its very own.
**Note that hotels in Whistler may have building works during the off season which is end of Spring/Summer.
What to do in Whistler:
Activities
From waterfall hikes to rainforest treks and spa days, you will have plenty to keep you busy.
Ziptrek Ecotours – Treetop trek and incredible ziplining. Walk among the treetops in the Great Bear Rainforest or zipline across them!
Whistler Village Gondola – take a sightseeing ride up to the top of the mountain. There are cafes, a bar and plenty of spots to take in the scenery. The gondola ride takes about 25 minutes each way. Peak to Peak Experience gets you 360 degree views of the mountain and surroundings area but was closed while I was there. Cloudraker Skybridge & Raven's Eye Cliff Walk  is scheduled to open July 1, 2019
Brandywine Falls Provincal Park –  You can take a short walk to the waterfall viewing point or hike to the bottom which takes 1-2 hours.
 Wellness
Scandinave Spa Whistler – 25,000 square feet of spa facilities.  Hot tubs, cold pools, solariums, steam rooms and more! Treatments available as well.  I loved the tea they had out for you to sip on and the fireplace to relax by.
Yogacara – right in Whistler Village offering small class sizes and various class types, reiki, workshops and massage.
What to do in Whistler : Nearby
There are various lakes and parks in the surrounding area.
Lost Lake,  Alta Lake, Green Lake, Cheakamus Lake, take your pick!
High Note trail is one of the most popular alpine trails on Whistler Blackcomb because of the view down to Cheakamus Lake. The 9.5km roundtrip and takes about 3-4 hours, and the trail starts from Whistler peak.
Joffre Lakes Provincial Park– Consists of 3 lakes. The water gets bluer the higher up you go.  The closest one in only a 5 minute walk from the parking lot(although the sign says 15 minutes you would have to be walking pretty slow). I'm not sure why, but when I went the lower lake wasn't blue at all, however I had no time to hike to the other two. (it was still beautiful!) Getting to middle and upper lake takes hours.
Where to Eat and Drink
Whistler Village has a wide range of restaurants and bars.  Although I only tried 1 restaurant in the village I was told by a local that there's no bad choice.
The Grocery Store –  A very well stocked grocery store for its size. Convenience items such as ready to eat salads, sushi and hummus.
Stonesedge Whistler – Brunch, Dinner and late night local fare. Breakfast served until 12pm and late night kitchen until 1am!
Whistler Brewing Co. – (Not in the village) First established in 1989, the Whistler Brewing Company is an originator in the BC craft brewing movement.  100% BC owned and 100% BC brewed. Artisan beers and tasty kitchen. Tours available 4pm Monday through Thursday, 2:30pm & 4pm Friday through Sunday and costs $15.95(includes tasting flight).
Have you been to Whistler? What was your favorite activity or spot to grab a beer?