Travel Guide: Things to Do in the Great Northern Catskills, Greene County, NY
The Great Northern Catskills are located in Greene County, NY. The area is made up of a handful of small towns including Catskill, Hunter, Windham, Coxsackie and Tannersville. Greene County is teeming with things to do outdoors and as I've recently discovered – a number of splendid places to eat and drink.
Getting to the Great Northern Catskills takes about 2 hours by car from New York City,  making it an easy escape from the hustle and bustle of the Big Apple.
The Best Things to Do in Greene County
The Hudson River Sky is a 3-mile pedestrian walkway. It connects the Thomas Cole Site and Frederic Church's Olana historic sites, via the Rip Van Winkle Bridge.  Admire the scenery of the Hudson river and Catskill Mountains along the walk. There are visitor's centers with parking lots located on both sides.
Shop on Main St. in Catskill, NY.
Find cute shops, dining and art galleries to enjoy!
Get active outdoors – there are countless options!
Fishing
Hiking
Skiing
Kayaking
Mountain biking
Go on a brewery tour.
There are a number of different breweries to try in Greene County as well as one cidery. Take your pick!
Subversive Brewing
Left Bank Ciders
Old Factory brewing
Rip Van Winkle Brewing
Hunter Mountain Brewery
Crossroads Brewing Company
West Kill Brewing
Visit the Mountain Top Arboretum.
The Mountain Top Arboretum is a public garden sitting at an elevation of 2,400 feet. Come here to admire northeastern US plants with a lovely Catskill Mountain backdrop.
Hike to Kaaterskill Falls.
The Kaaterskill Falls hike is one of my absolute favorites! Though it's incredible anytime of year, it's especially magically during the fall when the cascading water is surrounded by a collage of autumnal colors.
Please make sure to observe safety measures and park only in designated areas!
Kaaterskill Falls Overlook
Kaaterskill Falls
Enjoy mountain adventures at Windham like skiing and biking.
Alpine Spa
Adventure Park
Skyride
Hunter Mountain has activities to keep you busy in both summer and winter!
New York zipline adventure tour
Scenic Skyride
Hiking
4×4 off road adventures
Explore the Catskill Park.
This incredible recreation area spans across 700,00 acres and is free to enter!
See a gig at the Avalon Lounge.
Avalon Lounge is a restaurant and live music venue with a hip, retro aesthetic. They showcase a variety of music from indie-rock to jazz.
Visit a farmer's market.
Coxsackie Farmer's market
Windham New York Farmer's Market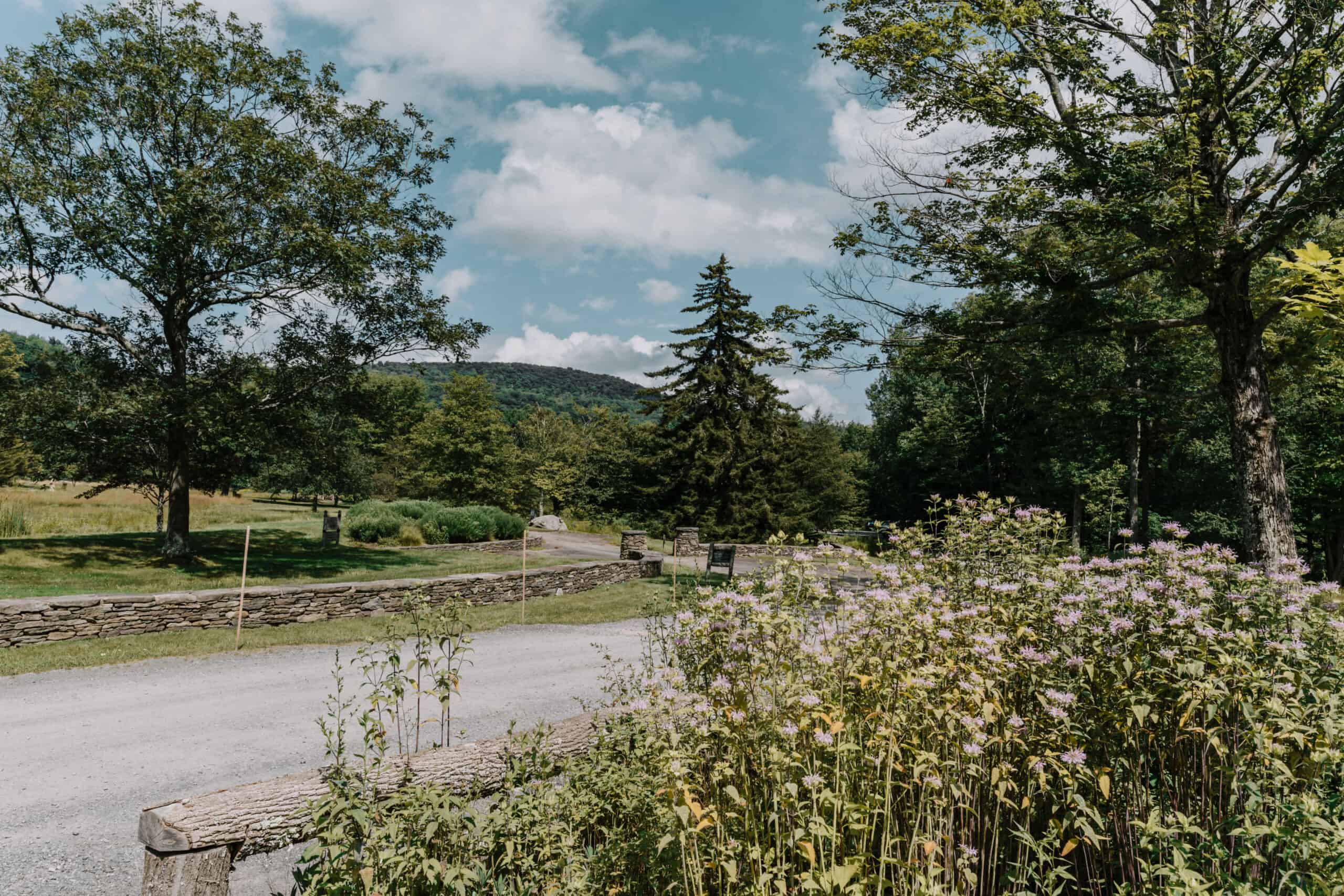 Where to Stay
There are some really cool places to stay in upstate New York, especially in the Great Northern Catskills of Greene County! Here are a few of my favorite, and not to mention very unique, properties:
The Glen Falls House sits on an impressive 47 acres of land. This quirky resort has numerous amenities that include a main house with their restaurant, Trotwood, hiking trails, fire pits, a garden, tavern, pool and two beautiful waterfalls.
We enjoyed waking up and grabbing fresh coffee from the honor provisions and heading out on one of the trails. Our days-out ended by sitting around one of the cozy fires with a cocktail from Trotwood.
The owners Jon and Greg breathed new life into this dated property and it is now the perfect base for artists and travellers to experience the Great Northern Catskills. Be sure to ask them about their live music events on the weekends!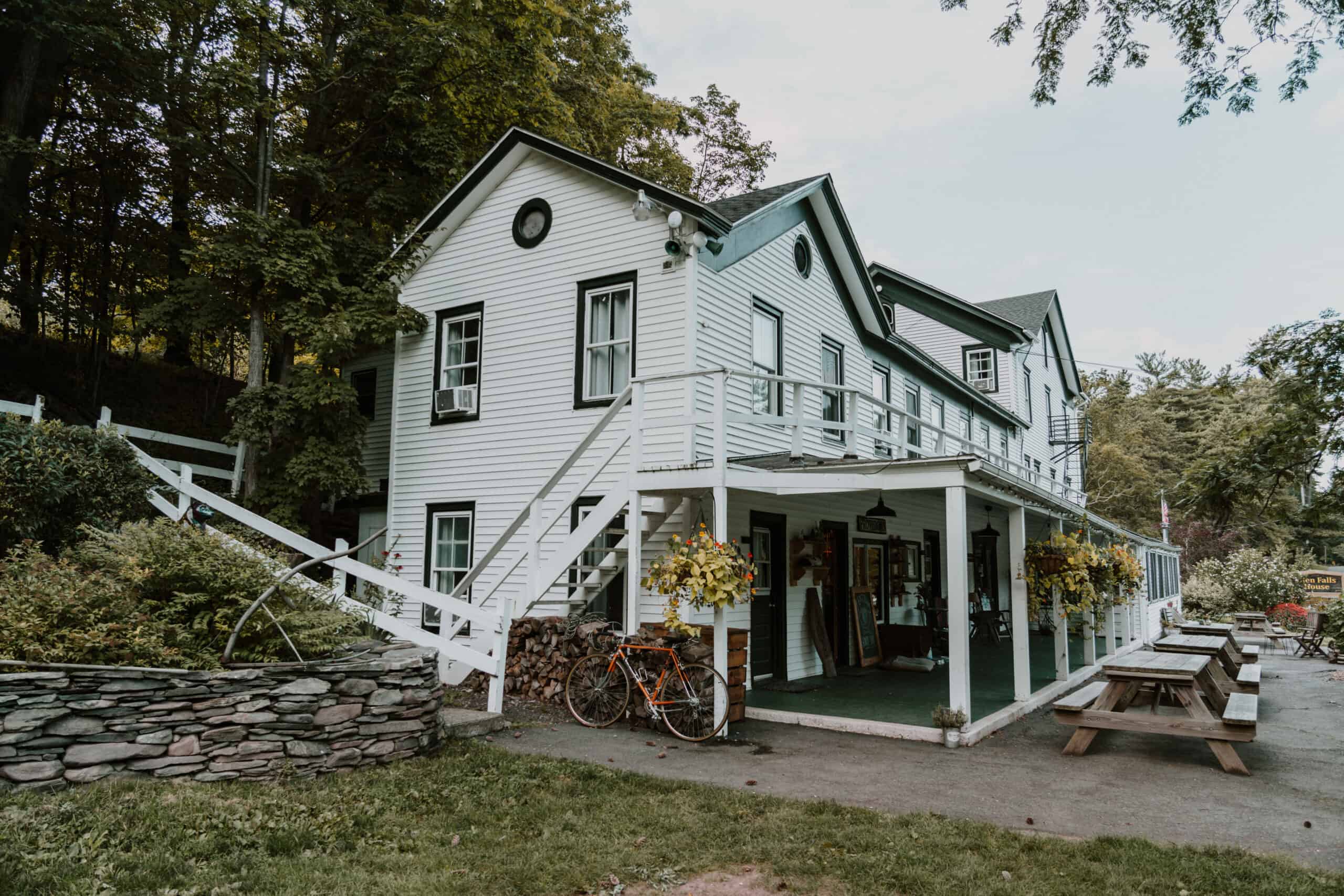 For accommodation at Eastwind, you have the choice between A-fame cabins or rooms in the main building. The cabins give you a feeling of seclusion,  but you are just down the road from the main area of Windham!
There's a bar in the main house serving drinks and snacks and for breakfast you can order a basket to be delivered to you which is a really nice touch . The basket came with plenty of food for two  including freshly baked pastries + rolls, OJ, milk, coffee, boiled eggs, jams, yogurt, fruit and granola.
At this cozy mountain hotel you'll find an outdoor pool, fire pit and deck with views of Hunter. There's also a lounge area and common space with an indoor fireplace and pool tables.
Scribner's Lodge is great getaway location in both summer and winter. In summer you can hang out by the pool and do some hiking and in winter you're just steps from skiing and other cold weather activities
Prospect is the name of their restaurant which serves fresh, local cuisine.
Scribner's Lodge
Eastwind
Where to Eat: Restaurants and Diners
Restaurants are much more spread out in this region of New York than in NYC so it helps to know where you want to eat before you get there! If you love farm-to-table and local eats you'll definitely want to check out these spots:
Gracie's Luncheonette
Gracie's is a modern diner where everything is made in-house! They started off as a food truck and now have their brick & mortar in Leeds, NY. We tried the hot chicken biscuit, A.L.T. egg sandwich, a berry donut as well as the iced matcha and pink horchata latte. Everything was delicious!
Trotwood at Glen Falls House
Trotwood is the restaurant located at the Glen Falls House. With their own on site garden, this is some of the freshest food you will eat in the Catskills! The menu consists of are classic, but elevated comfort food. We tried the GFH cheeseburger with , melon starter, melty cheese, and a side of charred organic summer squash which was so satisfying and tasty I could easily consume it as a main!
Mamas Boy Burgers
Mama's Boy Burgers is a fun spot for some roadside favorites. Order a locally-grown, grass-fed, grain-finished Angus beef  burger and choose from a selection of 40 milk shake flavors then grab a seat outside while you wait for your name to be called out on the loud speaker. They source their burger meat from JJ's farm, just 6 miles down the road and they also serve Jane's Homemade Ice Cream from the Hudson Valley.
Gracie's Luncheonette
Mama's Boy Burgers
Trotwood
New York Restaurant
Traditional Polish cuisine combined with modern American cooking by local native, Natasha Witka.
Jessie's Harvest House
Jessie's Harvest House serves locally sourced American fare. Honestly, it looks very unassuming from the outside, but the atmosphere inside is cozy and welcoming and the food is fresh and well presented. We tasted so many amazing dishes here like the ahi tuna, duck liver mousse cannolis, octopus with truffle and rack of lamb.
Ahi Tuna – Jessie's Harvest House
Octopus – Jessie's Harvest House
lamb at Jessie's Harvest House
The Windham Local Public House
A restaurant and bar where you can grab, breakfast, lunch or a drink. They have live music and Thai food on Friday and Saturday nights.
The Restaurant at Deer Mountain Inn
The kitchen at Deer Mountain Inn is headed by Chef  Corwin Kave. You'll find dishes like smoked half chicken, lamb shoulder, and smoked brook trout.
Prospect
Prospect has an incredible setting at Scribner's Lodge and is another spot serving local dishes inspired by the Catskills. The restaurant boasts floor to ceiling window, cast iron stoves and a large circular bar.
Twin Peaks Coffee & Donuts
Stop at Twin Peaks Coffee & Donuts for house roasted coffee and hot donuts made to order and other goodies.
The Mermaid Cafe
A small cafe serving healthy options like tacos, seasonal salads and poke bowls.
Where to Drink: Breweries & Bars
Left Bank Ciders
Left Bank Ciders cidery and tasting room is situated behind Main St. in Catskill, NY. They source all of their ingredients from within an hour of this location. We loved the different varieties of apples they used and one of the styles of cider really reminded us of England! Cider is certainly a more common drink in England and they tend to be on the drier side which we enjoy.
This is a great spot to stop in for a few pints!
Old Factory Brewing
This brewery had a bit more of a local-hangout feel to it and a crazy long bar! The beers are only $6 and they give you some complimentary popcorn to snack on. There's a full menu available if you fancy something heartier with bar food like wings and chilli fries, burgers or grilled cheese.
Old Factory Brewing
Left Bank Ciders
Rip Van Winkle Brewing
Try one of their 8 beers on tap including a brown ale, German Helles lager or a Belgian style ale. Their restaurant doesn't serve your typical brewery fare – they actually serve Italian classics like pizza, penne a la vodka and eggplant parm!
Subversive Brewing
We really loved the setting at Subversive Brewing. It felt like a hidden oasis behind the fence lined with greenery. The sour beer was really good here and they even have some frozen beers! You can also get tasty artisan pizza from the Golden Bee farm pop up.
Other drinking spots to try out  in Green County:
Hunter Mountain Brewery
Crossroads Brewing Company
West Kill Brewing
Captain Kidd's Inn – Dive Bar
Jagerberg Beer Hall & Tavern


Thank you to the Great Northern Catskills Tourism for an amazing stay in Greene County! As always all opinions are my own.
Other Places to Visit in Upstate New York: