13 USA Islands you could Escape to on your next Getaway
Did you know the USA islands span across over 10 states?!  Many Americans look abroad when seeking an island getaway, but there are more than enough to choose from right here in the U.S.
There's something about having to take a boat or even drive across a long bridge to get to where you're going. It automatically shifts the mindset and makes you feel like you're gong somewhere distant or exotic even if you're not even crossing state borders.
Check out this list of some of the USA's best islands that you won't need a passport to go to as an American citizen.
How many Islands are there in the USA?
Thousands !! In New York State alone there are hundreds. There are so many more islands in the USA than I realized. I've  been to a few that I had never even heard of before, like Amelia Island!
The USA's Best Islands
Amelia Island, Florida
Closest to: Jacksonville
What it's known for:
Amelia Island is a low key family friendly destination with plenty of historic to uncover. From being under 8 different flags and being named after Princess Amelia, daughter of King George II of England to stories of buried treasure and pirates.
Enjoy pristine, relatively empty beaches, Fort Clinch State Park and Downtown Fernandina Beach. Make sure to listen to some live music at the Green Turtle Tavern, have a cocktail at Sliders Seaside Grill tiki bar, take a boat tour past neighboring Cumberland Island and stop in at the oldest continuously running drinking establishment in Florida, The Palace Saloon.
Where to Stay:
Nantucket, Massachusetts
Closest to: Cape Cod/Boston
What it's known for:
This quaint New England island is smaller than it's neighbor Martha's Vineyard at just 15 miles long. It's also supposedly the more expensive and exclusive island, due to the clientele and smaller size.
Nantucket has a preppy vibe and is known for whaling, scallops and lighthouses.  Stop by the whaling museum to learn some history, walk on adorable cobblestone streets or spend the day out sailing.
As a very flat island, a bicycle is the best way to get around!
Where to Stay:
Catalina Island, California
Closest to: Los Angeles
What it's known for:
Catalina Island is owned by the Wrigley family and has a Mediterranean feel to . The $80 ferry ride over is worth the $600 you'll save from not flying to Italy!
Pretty much everyone drives a golf cart, there's really no need for a car.  The two towns on the island are Avalon and Two Harbors, but the main hub is Avalon.
Some of the best things to do on this West Coast island are to take photos at Buena Vista Point, get coffee from Catalina Coffee and Cookie Company, go on a zip line eco tour, enjoy happy hour at the Sandtrap, relax at one of the beach clubs or explore the island by boat. As you can see, there's so much to do on Catalina!
This is definitely one of my top picks for USA islands to visit for it's uniqueness and diversity!
Where to Stay:
Block Island, Rhode Island
Closest to: Newport
What it's known for:
Block Island is another New England island, this time off the coast of Rhode Island.  You can actually get from Block Island to Montauk, NY by ferry in about an hour.
Block Island is only seven miles long. It's a great place to get around by bike, so you don't even have to bother taking a car over.
You'll want to visit the the Mohegan Bluffs, hike the Clayhead Trail,  climb to the top of the Southeast Light and grab a drink a one of the local watering holes!
Where to Stay:
Mount Desert Island, Maine
Closest to: Bangor
What it's known for:
Named by French Explorer Samuel de Champlain, Mount Desert Island is home to the incredible Acadia National Park, one of the most impressive National Parks on the East Coast.
Bar Harbor in the main town on Mount Desert and provides for most of the accommodation, shopping and activities.
While you're here make sure you get your fill of Maine lobster rolls, visit Cadillac Mountain, Sand Beach and drive the 27 mile loop road in Acadia National Park.
Where to Stay:
The Florida Keys, Florida
Closest to: Miami
What it's known for:
The Florida Keys make up some of the best islands in the USA! The laid back vibe is so much fun and the drive down from Miami across the Overseas Highway and over the Seven Mile Bridge is one of the most incredible I've been on.
The five main regions of the Keys are Key Largo, Islamorada, Marathon, Big Pine and the Lower Keys, and Key West. Key West is the  furthest south and most populated city in the Keys. Diving and sports fishing are very popular in the Keys, Islamorada being known as the sport fishing capital of the World.
There is so much going on in downtown Key West. For instance you can visit the Ernest Hemmingway Home and Museum, go bar hopping on Duval Street, leave for a sunset sail or simply admire the beautiful southern homes.
A great place to go in Key West for brunch is Blue Heaven where they tend to have live music playing as you dine.
John Pennekamp Coral State Park, Bahia Honda State Park and the Dry Tortugas National Park are some other notable spots through out the Florida Keys.
Where to Stay:
Assateague Island, Maryland
Closest to: Ocean City
What it's known for:
Have you ever heard of this United States island? Assateague is a place known for wild horses, rugged beaches and camping. You can get to this island by car from Maryland and Virginia, it's actually split between both of these states!
You won't find much of anything here besides nature, on this island it's all about being in the outdoors, hiking and enjoying the tranquil beaches.
Where to Stay:
Most of Assateague, MD is part of the National or State Park systems and do not have any hotel accommodation, though there are some campsites available.
Galveston Island, Texas
Closest to: Houston
What it's known for:
Located on the Gulf Coast, Galveston Island is one of Texas's largest ports and a major vacation spot for Texan families.
There is definitely some history in Galveston, specifically in the Downtown Strand and East End Historic Districts. The Grand 1894 Opera House is located here and is a wonderful location to see a show.
You can visit Galveston Island State Park, go on a Dolphin Tour, or relax at Stewart Beach where you'll find lounge chair and umbrella rentals, restrooms and lifeguards.
Where to Stay:
Culebra, Puerto Rico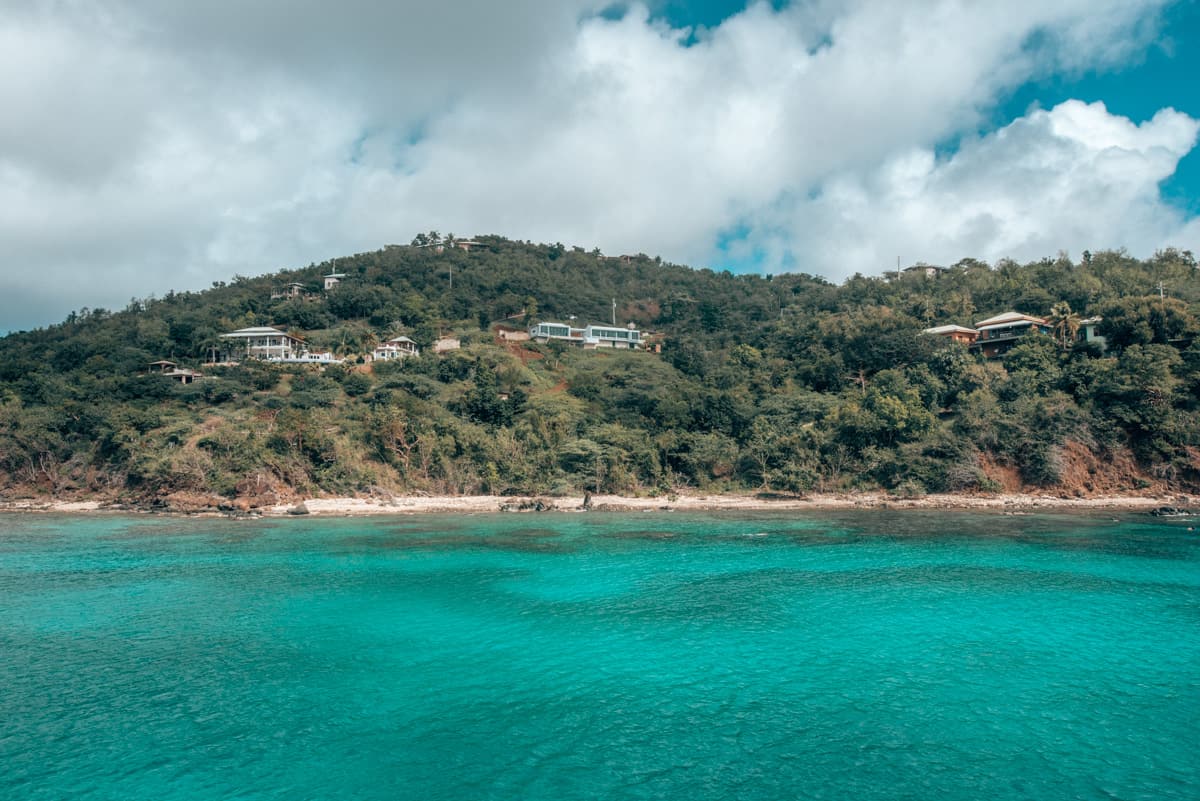 Closest to: San Juan
What it's known for:
Culebra, Puerto Rico is a stunning USA island gem.  It's most famous for Flamenco Beach with it's turquoise water and pristine white sand. On numerous occasions, it has been named the best beach in the world!
Get to Culebra here by joining a boat day tour leaving from Fajardo or take a boat ferry/taxi from Ceiba, PR.
More than 20% of this U.S. island is part of the Culebra National Wildlife Refuge. Sea turtles, birds and secluded beaches are just some of the things you'll find here. Yoga, biking, snorkeling and scuba diving are some of the other popular things to do.
Where to Stay:
Hilton Head, South Carolina
Closest to: Savannah
What it's known for:
The USA's Sea Island of Hilton Head is a paradise for golf or beach lovers. High end beach resorts as well as some budget and chain options are available on the island.
Since there are over 50 miles of bike trails on the island, you'll find bike shops everywhere.
Though Hilton Head is quite family friendly, there are a few bars and clubs to go out to which are nicknamed "Barmuda."
Visit Harbour Town, Pinckney Island National Wildlife Refuge, or the Coastal Discovery Museum & Sea Pines Forest Preserve.
Where to Stay:
Kiawah Island, South Carolina
What it's known for:
Kiawah is one of the USA islands that does not lack in luxury. Kiawah, compared to Hilton Head, is the smaller more exclusive island and budget options are few and fare between.  Like Hilton Head, this South Carolina island also has a plethora of award winning golf courses.
Beachwalker Park has lounge and umbrella rentals, a snack bar and restrooms so it's perfect spot to lay out for the day needing little preparation.
Where to Stay:
Hawaiian Islands
Closest to: Pacific Ocean
What it's known for:
I've always wanted to go to Hawaii ever since my parents told me they went there on their honeymoon and that it was absolute magic. Hawaii might just be the most exotic chain of islands within America if not the world. It's the most isolated population on the Earth!
I'm sure you already know that Hawaii is big on surfing, hiking, and the Aloha state of mind. Hawaii consists of eight main islands, Hawaii, Kahoolawe, Maui, Lanai, Molokai, Oahu, Kauai, and Niihau.
Visit the popular North Shore,  Hawaii Volcanoes National Park, Waianapanapa State Park, Pearl Harbor or do something crazy like a helicopter tour or swimming with sharks!
Where to Stay:
Fire Island, New York
Closest to: New York City
What it's known for:
Fire Island is a car free barrier island off New York's Long Island. Ocean Beach is the main downtown hub of this US island known for having a large LGBT community and plenty of spots to grab a drink!
Robert Moses State Park on the west end and Smith Point County Park on the east end are the main oceanfront parks. You'll see beachgoers transporting their goods in wagons and getting around the neighborhood via raised wooden planks which I found so cute!
If you want to get into the party mood along with everyone else, you must try a "rocket fuel" which is a pina coolada made with dark rum, amaretto and a floater of 151 rum on top, the signature drink of Fire Island!
Where to Stay:
What is the best US island to visit?
That depends on what you're looking for! Do you want a destination that's warm year round? A place where you'll see wild life, or somewhere it's all about adventure?