How to Winter in the Hamptons
The Hamptons as a Winter Destination
The Hamptons are made up of two main townships; Southampton and East Hampton. Within these towns are a bunch of villages and hamlets including the trendy Montauk, the luxurious East Hampton, the historic Sag Harbor and the quaint Southampton. The area is known as a summer hotspot, but a winter trip to this seaside destination can be an entirely new experience. Enjoying a bit of Winter in the Hamptons is ideal for a more laid back and relaxing getaway.
Staying in the Hamptons During Winter
The Southampton Inn is open year round and is located right in the historic village of Southampton. It's in close walking distance to shops, restaurants, cafes and even the beach!
This 90 room hotel is pet friendly and set on 5 acres of land. They have bikes for guests to use, all weather tennis courts and a lobby with a sitting room and fireplace.
The rooms are spacious and located on either the ground or first floor, throughout an expansive area of the property. They also have large individual built in heating systems, so you can set your own temperature depending on that days weather and how you're feeling.
Claude's Restaurant is located on site and is open for breakfast daily, we enjoyed lox bagel and eggs Benedict here. They're also open for brunch and dinner on the weekends.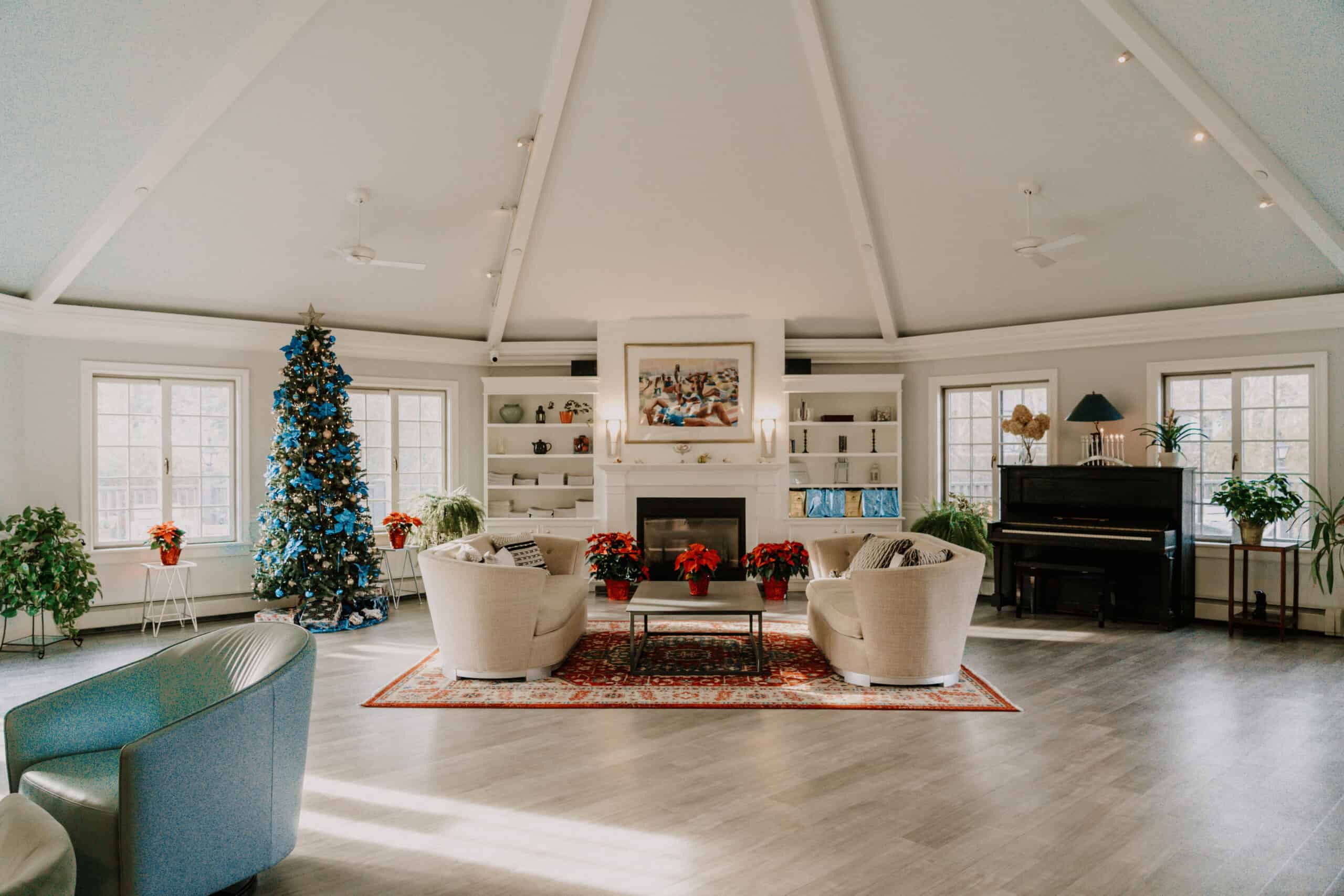 Where to go & Winter Activities in the Hamptons
Go Shopping in Downtown Southampton or East Hampton.
Adorable towns are dotted throughout The Hamptons. The Main Streets of both East Hampton and Southampton are especially quaint and ideal for doing some browsing! There are plenty of boutiques and custom shops as well as some well known, high end fashion brands with small outposts in this area.
Visit the Parrish Art Museum.
At the Parrish Art Museum, you'll find impressive works of art made by local artists.  They offer classes and workshops in addition to their 15 temporary exhibitions each year.
During our visit, we found it very interesting as the exhibits varied from abstract art to electronic installations, meaning each room or exhibit gave you a totally new experience. These included everything from a photographic timeline of ground zero in the days after 9/11 to huge canvas paintings with visualisations of different parts of the galaxy and solar system.
Admission to the museum is $12. It's open 5 days a week, being closed on Tuesdays & Wednesdays. They have a small cafe and gift shop on site.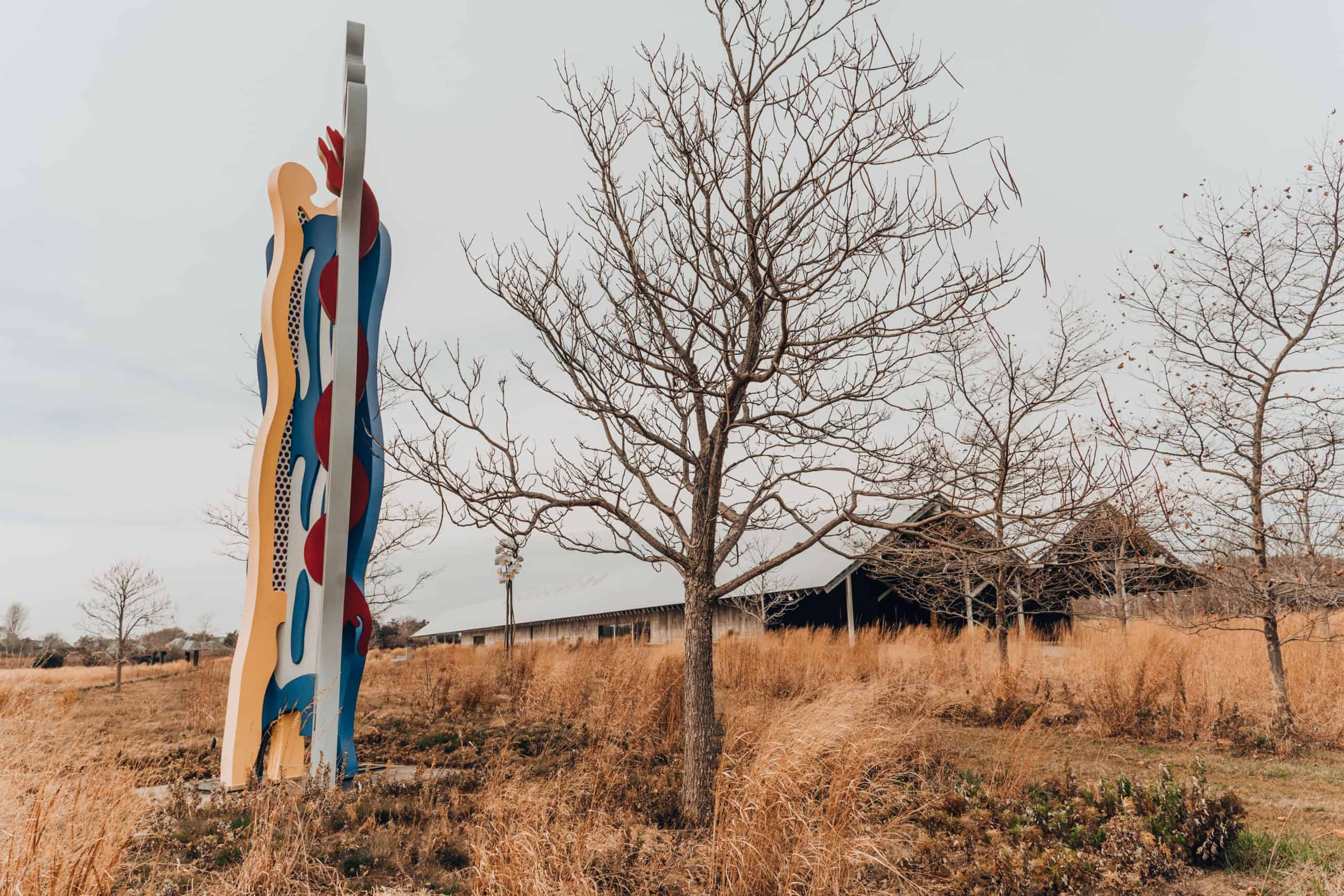 Go Ice Skating.
Southampton Ice Rink offers public skating and skating lessons as well as adult and youth hockey. Keep an eye out on their schedule if you want to learn the basics or pick a time to just go and skate.
The cost to skate is $15 per adult, $12 for kids and skate rentals are $5.
Rent an Igloo at Southampton Ice Rink.
Also available at Southampton Ice Rink are igloos that you can rent! They fit up to 6 people and you can order food and drinks from Local Burger Co. They serve their regular food menu plus seasonal hot chocolates and alcohol.
Enjoy the empty beaches.
Winter in the Hamptons has many positives; quiet beaches, which sometimes you'll have all to yourself, and the lack of parking fees and restrictions are right at the top of that list!
We bundled up, picked up some bagels and headed to Cooper's Beach for a peaceful morning.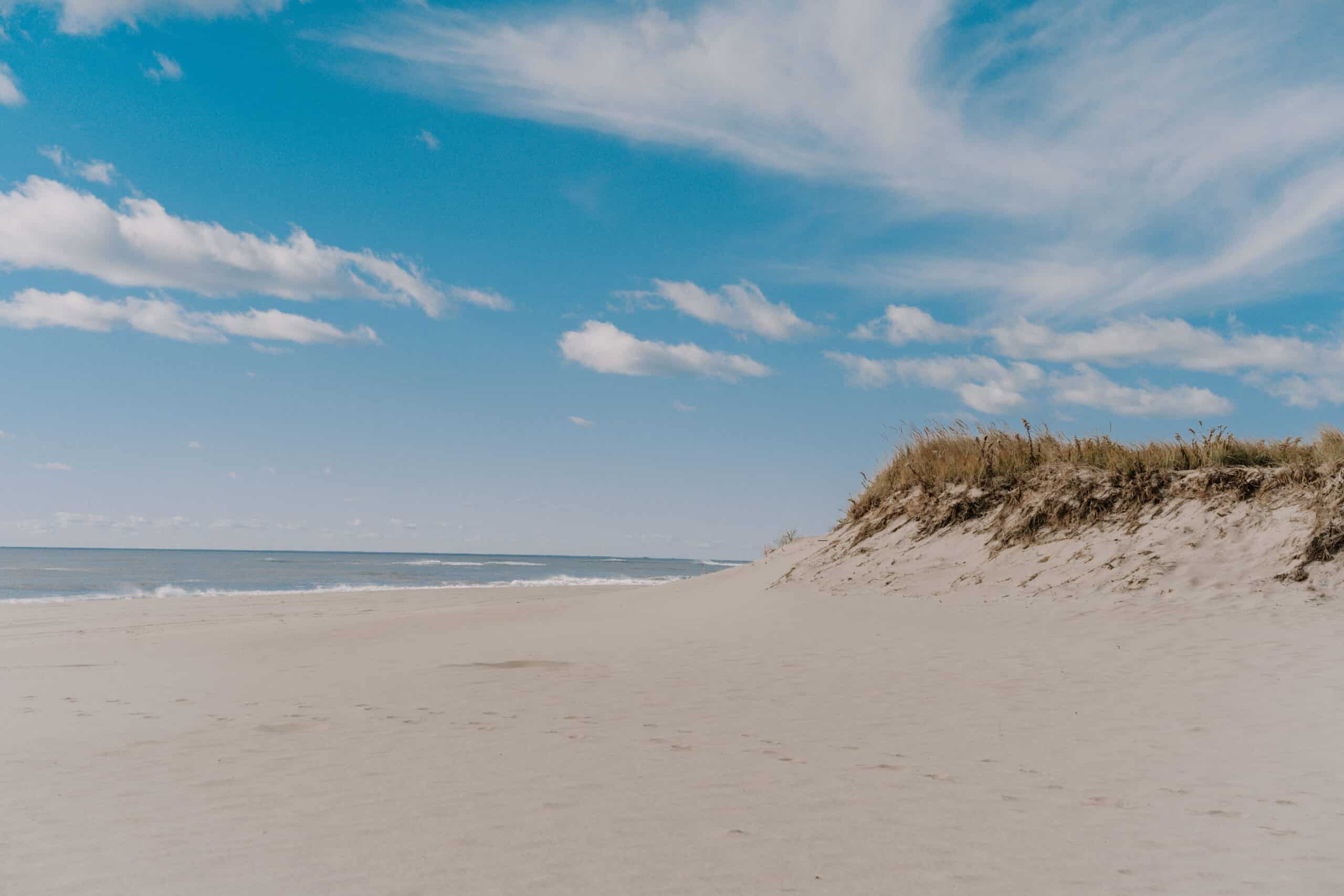 Go on a trail walk.
There are number of State Parks, trails and preserves you can enjoy year round in the Hamptons!
Hither Hills State Park
Shadmoor State Park
Quogue Wildlife Refuge
Mulvihill Preserve
Visit the Montauk Lighthouse.
The Montauk Lighthouse is a National Historic Landmark and is right next Montauk Point State Park. Walking all the way up to the lighthouse in the winter is not permitted but you can get a good view of it from the parking lot or from the beach below.
Where to Eat & Drink in the Hamptons during Winter
Cowfish
Cowfish has a serene waterside location in Hampton Bays. Their restaurant and bar is serving New American cuisine and seasonal fare, picking from the best of land and sea to suit different palates and preferences.
The Cuisine
We tried multiple dishes here including the corn bread skillet, clam chowder, baby back ribs and seared ahi tuna. The cornbread skillet was a perfect winter dish, a huge warm serving topped with butter which melted through the layers. The ahi tuna was served over pineapple coconut fried rice and topped with an orange ponzu sauce, this really stood out to me as well and is one of their most ordered dishes. The cocktails were equally as good, keeping with the seasonal theme with a warming whiskey sour.
The Views
There's gorgeous vantage points from almost everywhere in the restaurant, but try and get a table close to the window for unobstructed views of the water. We went around sunset which definitely adds to the experience. The bar area upstairs also has great views, with bar seating looking right passed the bar to the water.
Be sure to check out their daily specials and the happy hour too, which runs from 4-6pm on weekdays.
Local Burger
Stop at Local Burger in either Southampton, Patchogue or Bay Shore for grass-fed burgers and hot dogs as well as wings, fries and chicken sandwiches.  The burgers are made using their own blend of 80/20 meat and house seasoning. The ground meat is smashed down and grilled to perfection with your choice of toppings.
The burger picks
We had the Atomic burger which comes with cheddar cheese, dill pickles, jalapeños, raw onion, bacon and sriracha mayo. An awesome combo of hot, fresh and salty! We also got the Mac Daddy as a double patty smash burger with cheddar cheese, bacon and fried mac and cheese bites! Of course we had to get an order of wings and some cajun fries to go along with them!
Rumba
Rumba in Shinnecock Bay is ideal for feeling like you're on island time. They're all about island inspire cuisine paired with delicious cocktails from their rum bar.
What we ordered
This is somewhere that is perfect for appetizers and cocktails. We ordered the ahi tuna, Dominican ribs, duck empanadas and the Caribbean wings. Everything was on point – the ribs had a lovely charred outer layer and the empanadas had a crispy batter with a tasty filling.
KEY LIME PIE
We did say it's a great place for apps, but don't sleep on the key lime pie. This was an excellent dessert, topped with house made whipped cream!
The vibe is laid back and friendly with a mix of locals and visitors. The setting overlooking the bay is just another reason to visit as well!
Tutto Il Giorno
If you're in the mood for good wine, quality Italian cooking and a romantic setting, you need to dine at Tutto il Giorno. We ate their restaurant in the heart of Southampton but they also have a Sag Harbor location.
We stopped in here to share a few plates at the bar and were very satisfied. The service was attentive and the dark moody setting was exactly what we wanted on a winter evening.
The pasta is made in house so make sure to taste a couple different ones. We really enjoyed the rigatoni with sweet and hot homemade sausages, peas and a touch of cream as well as the butternut squash ravioli with brown sage butter.
Shinnecock Lobster factory
You can't visit The Hamptons in the winter and miss out on your chance to eat a lobster roll! At Shinnecock Lobster Factory you can choose between a guppy, shark and a whale, which is 4,6, or 8 ounces of lobster meat. Obviously we went for the whale!
They serve them on buttery brioche and with a side of delicious homemade potato chips. We went for 'The Classic' served with fresh squeezed lemon and mayonnaise but you can get all sorts of options from 'The BLT' to one with Cajun spices and peppers.
It is located along the Montauk Highway, so you'll probably pass it a few times when driving through the area. We'd definitely recommend a stop, lobster rolls aren't just for summer!
The American Hotel
Can you believe that The American Hotel, located in Sag Harbor, has one of the most extensive wine lists in the world and the hotel dates back to the 1800s?! When we heard this, we just had to stop in. The hotel is annually recognized by the Wine Spectator in receiving their highest award, the "Grand Award for One of the Greatest Wine lists in the World" — one of only 87 restaurants worldwide!
We visited for a glass of wine and a cocktail and loved the old world setting of the place, feeling like we'd stepped back in time. The service was very attentive and although they have a very extensive wine list, they don't have a cocktail list but are happy to make you anything that you'd like to order.
Thank you to Discover Long Island for having us on a wonderful Winter in the Hamptons getaway! As always all opinions are my own.
Visit DiscoverLongIsland.com for more trip ideas and itineraries.